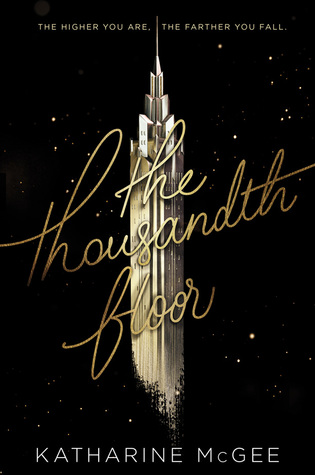 Title:
The Thousandth Floor
Series:
The Thousandth Floor #1
Author:
Katharine McGee
Publisher:
HarperCollins
Published Date:
August 30th 2016
Genre:
YA, Science Fiction, Dystopian
Page Count:
448
Format:
Hardcover

My Rating:
★ ★ ★ ★ ★
Goodreads Summary:
New York City as you've never seen it before.

A thousand-story tower stretching into the sky. A glittering vision of the future, where anything is possible—if you want it enough.

Welcome to Manhattan, 2118.

A hundred years in the future, New York is a city of innovation and dreams. But people never change: everyone here wants something…and everyone has something to lose.

Leda Cole's flawless exterior belies a secret addiction—to a drug she never should have tried and a boy she never should have touched.

Eris Dodd-Radson's beautiful, carefree life falls to pieces when a heartbreaking betrayal tears her family apart.

Rylin Myers's job on one of the highest floors sweeps her into a world—and a romance—she never imagined…but will her new life cost Rylin her old one?

Watt Bakradi is a tech genius with a secret: he knows everything about everyone. But when he's hired to spy by an upper-floor girl, he finds himself caught up in a complicated web of lies.

And living above everyone else on the thousandth floor is Avery Fuller, the girl genetically designed to be perfect. The girl who seems to have it all—yet is tormented by the one thing she can never have.

Amid breathtaking advancement and high-tech luxury, five teenagers struggle to find their place at the top of the world. But when you're this high up, there's nowhere to go but down…
---------------------------------------------------------------------
My Review:
"Maybe that's all that praying was, she thought, just wishing good outcomes on other people."
Characters:
Rylin-
Responsible for little sister, maid
Hylin-
Rylin's boyfriend works on elevators
Cord-
Lost parents, lives alone, "dated" Elis
Elis-
Avery's friend, lots of family drama
Leda-
Avery's friend, has a problem
Avery-
Perfect, complicated love life
Atlas-
Avery's brother, adopted, away
Watt-
hacker has a quant hidden
Mariel-
Lower level, smart
Those are the main characters and how I was able to remember them.
We switch perspectives between the characters every chapter, and no one gets a lot of focus. In every chapter we do get to see different of the main characters and how they interact with each other. I don't want to give to much away about each character because I feel like it will ruin the story. But I will say this Elis, Rylin and Watt were my favorite out of all of them. I hope we get to see more of Watt and Rylin the next book, because I want to know how they deal with what happened and if they get into trouble for being there.
I know that Avery was supposed to be the 'It' girl in this book, but mostly I found her annoying especially when things started to change in her love life. Just no.
I felt bad for Leda and Elis through the last half of the book, because it wasn't their fault for what had made them connected, but I could tell it wasn't going to end well.
I'm curious to see what will happen with Watt now that someone else know's his secret an isn't afraid to blackmail him.
I am worried for Mariel though and how she will deal with what has happened, because no one really knew they had a thing and she might not be given the space/time she needs.
As for the rest of the characters I don't really know what to say about them, unless I went on a long rant as to why I didn't really care for them. So instead lets talk about what I did like about the book as a whole.
I loved this book! The way that each chapter was separated into a different persons perspective made it really enjoyable and easy to tell who we were focusing on in that moment, which was something I was worried about when you get this many perspectives in a book. I liked all of the different characters as well and understood why they were doing what they were. Sure they were questionable at times, but getting to see whats going on in everyone head made this book fly by. If I had to compare it to any other type of books already out, I would have to say its gossip with the way most of the characters act/live and then proxy by Alex London with how the lower class system was set up kind of. There were similarities but nothing that looked like a copy to me. Also I would recommend writing the characters name and a specific something about them to help keep it all straight especially if you are reading more than one book at a time. As for who fell of the roof, well that's just something you'll have to read to find out.
"I believe in happiness. I'm just not sure love will actually get you there."