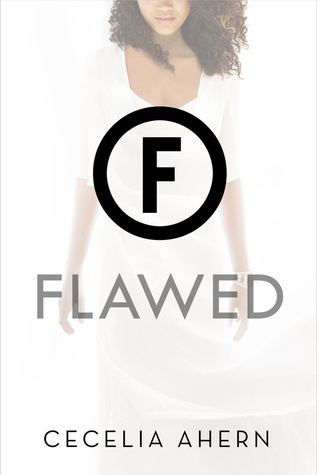 Title:
Flawed
Author:
Cecelia Ahern
Publisher:
Feiwel and Friends
Published Date:
April 5th 2016
Genre:
YA, Dystopian, Realistic?
Page Count:
336
Format:
Kindle

My Rating:
★ ★ ★ ★ ★
Goodreads Summary:
You will be punished…

Celestine North lives a perfect life. She's a model daughter and sister, she's well-liked by her classmates and teachers, and she's dating the impossibly charming Art Crevan.

But then Celestine encounters a situation where she makes an instinctive decision. She breaks a rule and now faces life-changing repercussions. She could be imprisoned. She could be branded. She could be found flawed.

In her breathtaking young adult debut, bestselling author Cecelia Ahern depicts a society where perfection is paramount and flaws lead to punishment. And where one young woman decides to take a stand that could cost her everything.
---------------------------------------------------------------------
My Review:
"I know the difference between right and wrong. I understand the rules. But today I feel that the rules have been blurred, because today they were literally on my front doorstep."

Celeste is a model student and person in her society. But she also has mixd feelings on things once they start happening to people around her. Before this things always happened to other people, but now its on her doorstep and she does something that she shouldn't. Because she does this it not only puts her in danger, but the rest of her family as well and has them all on edge. Plus it had extreme and unheard consequences for her because she didn't do what the main guy told her to.
Celeste not only has the marks on her body, but she also has become the new face of something that has been going on behind the scenes for quite some time now. But Celeste doesn't want to be this new face, she just wants life to go back to how it was even though she knows it never can.
"We see being Flawed as a strength, Celestine. If you make a mistake, you learn from it. If you never make a mistake, you're never the wiser. These so-called perfect leaders we have now have never made a mistake. How can they have learned what's right and wrong, how could they have learned anything about themselves? About what they feel comfortable doing, about what they feel is beyond the scope of their character? The more mistake you have made, the more you have learned."
Celeste also gets to meet and interact with people she has never been allowed to before. And she learns things that had been kept from those un-flawed. She see how flawed this new system is in iteself and how it really isn't helping much of anyone. It's an eye opening experience for her and I can't wait to see how she deals with what is happening next.
Before reading this book, I thought that all dystopians kind of had the same theme. But this one doesn't follow the theme in previous dystopians for the most part. Instead this one is far more political than the others and shows the beginning of a dystopian/dictator ship meaning we get to see how it can happen so easily if no one stands up. Sadly this is also something I can see happening in today's society relatively easily. Ahern did an amazing job of making me feel for the characters, when Celeste was scared I was scared and when happy things happened I was happy for her. I really want to read her others books, and I can't wait to get my hands on the next book in this series.
"Courage does not take over, it fights and struggles through every word you say and every step you take. It's a battle or a dance as to whether you let it pervade. It takes courage to overcome, but it takes extreme fear to be courageous."