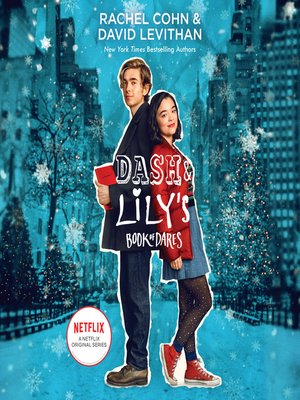 Title:
Dash & Lily's Book Of Dares
Series:
Dash & Lily's Book Of Dares #1
Author:
Rachel Cohn, David Levithan
Publisher:
Penguin Random House Audio Publishing Group
Published Date:
Nov 16, 2010
Genre:
Contemporary, YA, Christmas
Format:
Audio Book
Time:
6 hours, 40 minutes

My Rating:
★ ★ ★
Goodreads Summary:
I've left some clues for you. If you want them, turn the page. If you don't, put the book back on the shelf, please.

At the urge of her lucky-in-love brother, sixteen-year-old Lily has left a red notebook full of dares on her favourite bookshop shelf, waiting for just the right guy to come along and accept. Curious, snarky Dash isn't one to back down from a challenge – and the Book of Dares is the perfect distraction he's been looking for.

As they send each other on a scavenger hunt across Manhattan, they're falling for each other on paper. But finding out if their real selves share their on-page chemistry could be their biggest dare yet….
---------------------------------------------------------------------
My Review:
"I wanted to talk to someone. But who? It's moments like this, when you need someone the most, that your world seems smallest."
I'm not going to lie, I didn't think I would like this book at all. I'm pleased to say though that while it is a typical contemporary book, I really enjoyed Dash and Lily. The antics and dares they had each other do were fun and somehow always managed to be exactly what the other needed to come out of their shell a little.
Dash and Lily are very different people. Lily has the way over protective family while Dash is able to lie to his parents who are divorced and never talk and basically do whatever he wants. Because of this he is now able to spend Christmas alone instead of with just one parent. While for the first time ever Lily actually has freedom thanks to her big brother being left in charge of her while her parents go on a honeymoon over Christmas break.
With the help of a red notebook the two are able to not meet for a long time and instead have this mystery person who is helping them actually enjoy Christmas time that without this notebook would have been horrible. They each got to meet a ride variety of people that were funny and helpful, and truly seemed to care for both of the characters individually. I can't wait to see what happens to these two in the next book.
Sure this story had several cliches. But those didn't bother me for once. This book truly is just a nice Christmassy book that has now gotten me into the Christmas spirit!
"The important people in our lives leave imprints. They may stay or go in the physical realm, but they are always there in your heart, because they helped form your heart. There's not getting over that."