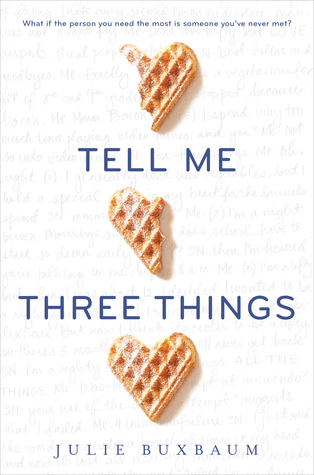 Title:
Tell Me Three Things
Author:
Julie BuxBaum
Publisher:
Delacorte Press
Published Date:
April 5th 2016
Genre:
YA, Contemporary, Realistic Fiction
Page Count:
326
Format:
HardCover

My Rating: ★ ★ ★.5
Goodreads Summary:
Everything about Jessie is wrong. At least, that's what it feels like during her first week of junior year at her new ultra-intimidating prep school in Los Angeles. Just when she's thinking about hightailing it back to Chicago, she gets an email from a person calling themselves Somebody/Nobody (SN for short), offering to help her navigate the wilds of Wood Valley High School. Is it an elaborate hoax? Or can she rely on SN for some much-needed help?

It's been barely two years since her mother's death, and because her father eloped with a woman he met online, Jessie has been forced to move across the country to live with her stepmonster and her pretentious teenage son.

In a leap of faith—or an act of complete desperation—Jessie begins to rely on SN, and SN quickly becomes her lifeline and closest ally. Jessie can't help wanting to meet SN in person. But are some mysteries better left unsolved?

Julie Buxbaum mixes comedy and tragedy, love and loss, pain and elation, in her debut YA novel filled with characters who will come to feel like friends.
---------------------------------------------------------------------
My Review:
"Perfect days are for people with small, realizable dreams. Or maybe for all of us, they just happen in retrospect; they're only now perfect because they contain something irrevocably and irretrievably lost."
Julie is a young woman whose life is drastically changing. Her mom has passed away and her dad isn't dealing well with it. That is until he goes away for a business thing and comes back with a surprise that makes him and Julie move to the other side of the U.S. where everything is different from the people to how your supposed to act. Because lets face it to outsiders LA is terrifying especially LA private high-school. Julie has no idea how to navigate this new school, or which social class she would even fit into. That is until a random person starts messing her and offering her friendship and free advice. While this is a little creepy, it works and we get to know much more about both characters an a easy format where they feel comfortable and aren't trying to impress each other.
"You know how it is. Mean girls get mean in seventh grade and they stay that way until your ten-year reunion, when they want to be best friends again."
As for Julies other friendships they weren't doing so well. The only friend she had back home felt left out somewhat while also still being incredibly supportive. Yes Julie wasn't asking her how things were back there, but she still truly cared for her best friend and when they finally got to see each other again, it was worth the distance, because they got to deal with things they hadn't before. It also made Julie realize she didn't have to do things alone all the time.
"Just because you're strong doesn't mean you shouldn't ask for help sometimes. Remember that."
As for her new step-mom and step brother I wasn't a fan of them at first. They seemed to not really like or want Julie there, but as time went on and they all started getting use to each other things started changing. Her and her step-brother became friends and were protective of each other. Her step-mom realized that she needed to start trying with Julie and making her feel welcomed. Sure this whole new family dynamic still has a lot to learn and just proves why you shouldn't rush into a marriage when children/teens are involved.
"Not feeling like I belong anywhere has made me crave constant motion; standing still feels risky, like asking to be a target."
Overall I enjoyed this story. The way that Julie dealt with loss was very real, as was her moving and having to start completely over. I was able to figure out who the anonymous person was about half way through the book, but then again after that I was also always trying to make sure who I thought it was was correct and it wasn't actually someone else.
"He's more like me, I think: burdened with the realization that what goes on in his mind is somehow different from what goes on in everyone else's. Even those closest to us.
And how you can't think about that for too long, because that thought - the truth of our isolation - is too much to bear."