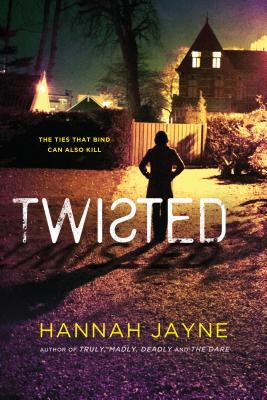 Title:
Twisted
Author:
Hannah Jayne
Publisher:
Sourcebooks Fire
Published Date:
July 5th 2016 by
Genre:
Mystery, Thriller, YA
Page Count:
304
Format:
Kindle

My Rating:
★ ★ ★ ★
Goodreads Summary:
When her father is accused of being a serial killer, Bex becomes the ultimate bait in this game of cat and mouse

Bex is ready to start a new life in foster care. There, she won't be known as a serial killer's daughter. Though her father was never tried for the murders attributed to "The Wife Collector," he disappeared after questioning. And Bex struggles with the guilt that she provided the circumstantial evidence that convicted him in the public's perception—and drove him to abandon her.

But when a body turns up in her new hometown, all signs point to the Wife Collector. Bex's old life isn't ready to let her go. The police want to use Bex to lure in her father. But is she baiting a serial killer or endangering an innocent man?
---------------------------------------------------------------------
My Review:
"She was a new person, at the other side of her home state and about to start a new life. No way was she going to fade into her hoodie and let people think she was a serial killer just because her father was."
I'm not even sure how to start this review without giving anything away, but I am going to try my best.
Bex is starting a new life, in a new city, with new parents. Ever since her dad was accused of being the "Wife Collector" serial killers daughter she had lived with her grandma, but now that isn't an option.
She's ready to become Bex a girl who lives a normal life, but that isn't as easy as it was supposed to be. Because she starts questioning everything and wonders if she will turn out like her father. As she settles into life in her new home, a girl is found dead that looks an awful lot like the "Wife Collectors" signature.
This starts Bex's paranoia and fear of what happened when she was a child.
"You're Bex Andrews now. Beth Ann stayed in Raleigh. The wife Collector stayed in Raleigh. You're normal now. You have to be normal."
Bex tries to keep her past secret from her new parents, friends and boyfriend. But as time goes on and more things start happening it's impossible to keep it a secret. Especially when someone who knows kind of what it's like to be her shows up as well.
I really liked how this story, not only showed foster care in a positive light, but late adoptions because this isn't something that is talked much about, especially not in young adult.
This book had me convinced multiple times that I knew who the killer was, but then new information would be found out and I would think it was someone else. At one point I even thought that Bex's paranoia had led her to think/see things that weren't actually happening. When Bex ended up becoming bait, I got worried that she would be the next victim.
"Bex typed from the paper, focusing only on the letters and not the words they were making it up. It was better that way; she wasn't part of it then. She was just a receptionist, just typing a slew of letters that formed themselves into words that formed ideas without her."
That ending though, I was convinced of something and then had it ripped away last minute. I'm afraid to say anything more because I don't want to give it away.
If you want a good thriller that is YA that will have your heart pounding at times then this is the book for you.
I received an e-Arc of this book from Netgalley and the publisher in exchange for my honest review. Thank you