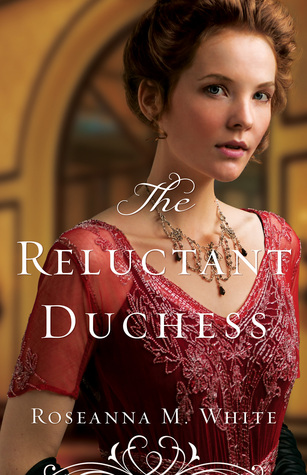 Title:
The Reluctant Duchess
Author:
Roseanna M. White
Series:
Ladies Of The Manor #2
Publisher:
Bethany House Publishers
Published Date:
April 5th 2016
Genre:
Historical Fiction, Christian Fiction
Page Count:
384
Format:
Kindle

My Rating:
★ ★ ★ ★.5
Goodreads Summary:
Lady Rowena Kinnaird may be the heiress to a Highland earldom, but she has never felt good enough—not for her father, not for the man she thought she'd marry, not for God. But after a shocking attack, she's willing to be forever an outcast if it means escaping Loch Morar and the men who have jeopardized her life.

Brice Myerston, the Duke of Nottingham, has suddenly found himself in possession of a rare treasure his enemies are prepared to kill for. While Brice has never been one to shy away from manor-born ladies, the last thing he needs is the distraction of his neighbor, Lady Rowena, who finds herself in a desperate situation. But when the moody Earl of Lochabar tries to trap Brice into marrying Rowena, Brice finds he's not as opposed to the idea as he expected to be.

Rowena wanted to escape the Highlands, but she's reluctant to resort to marrying a notorious flirt just to gain his English home. And when she learns that Brice is mixed up in some kind of questionable business with a stolen treasure, she 'fears she's about to end up directly in the path of everything she was trying to avoid
---------------------------------------------------------------------
My Review:
"And if you really want to spite them, do you know what you should do?.. Thrive. Be happy."
This story does involve physical and sexual abuse and talking about said abuse.
This is a companion novel to The Lost Heiress. While we do see a few mentions of Brook and Justin and some of the other characters from the first one, and of course those blasted Fire Eyes.
Characters:
Lady Rowena Kinnaird – Heir to a Highlander Earldom.
Brice Myerston – The New Duke of Nottingham,
Lady Pratt – The widow of the late Lord Pratt.
As with the first one this isn't even half of the characters, but they are the main ones in my opinion.
This story follows Rowena Kinnaird the only Heir to a Highlander Earldom. Her father has been rough with her, her whole life always making sure she follows his every command, and makes herself be hidden inside the castle for the most part. He has also put her in an engagement that could very well cost her, her life later on once they are married. But then she meets Brice and he believes that God has put him there to protect her and take her far away from the Highlands with a marriage in order to keep her safe. She doesn't know what to do as a Duchess though, while she had gone to a boarding school and knows the basics. That was a long time ago, and she has lost a lot of her own confidence since that time period due to the abuse she has suffered at the hands of the two men in her life.
Once they are back to England, Brice starts introducing her to all of his friends, but he makes the grave mistake of keeping a big secret from her. While Brice is withholding information from her she becomes friendly with Lady Pratt who she feels is also an outsider to society.
As Rowena and Brice slowly start to trust each other, and become friends and later on a married couple. Brice is now one of my favorite male love interests (I can't believe I just said that.), not only was he patient with Rowena about being his wife, he never pushed her to tell him anything, and he was a good God fearing man. While he did flirt without knowing it, he never did it to hurt anyone and most of the time didn't even know he was doing it.
Once they start working together as team to try and protect their new family, and Rowena's father even comes to help. We see how strong they both can be together, and how unstoppable. Rowena becomes a strong woman again who will take nothing from no one anymore which I was so glad to see after everything she had been through.
Overall I liked this story.I didn't end up enjoying this book as much I did The Lost Heiress, but I still found it enjoyable. It was painfully slow the first 50% of the book, it did get better the last half that it made up for it. I can't wait to see what happens in the third book in the Ladies Of The Manor trilogy and who will make an appearance in it as well.
I received an advance reader copy of this book from the publisher via NetGalley in exchange for my honest review.