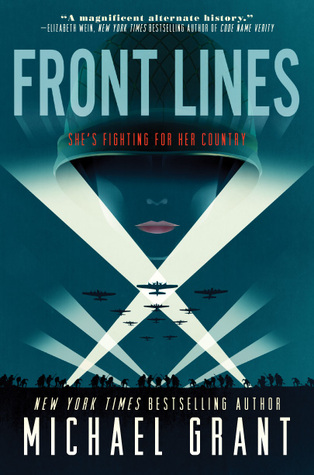 Title:
Front Lines
Series:
Soldier Girl #1
Author:
Michael Grant
Publisher:
Katherine Tegen Books
Published Date:
January 26th 2016 by
Genre:
YA, Historical Fiction, WWII
Page Count:
576
Format:
Hardcover

My Rating:
★ ★ ★ ★ ★
Goodreads Summary:
1942. World War II. The most terrible war in human history. Millions are dead; millions more are still to die. The Nazis rampage across Europe and eye far-off America.

The green, untested American army is going up against the greatest fighting force ever assembled—the armed forces of Nazi Germany.

But something has changed. A court decision makes females subject to the draft and eligible for service. So in this World War II, women and girls fight, too.

As the fate of the world hangs in the balance, three girls sign up to fight. Rio Richlin, Frangie Marr, and Rainy Schulterman are average girls, girls with dreams and aspirations, at the start of their lives, at the start of their loves. Each has her own reasons for volunteering. Not one expects to see actual combat. Not one expects to be on the front lines.

Rio, Frangie, and Rainy will play their parts in the war to defeat evil and save the human race. They will fear and they will rage; they will suffer and they will inflict suffering; they will hate and they will love. They will fight the greatest war the world has ever known.
---------------------------------------------------------------------
My Review:
"See, Gentle Reader, I know the rules of war stories. I know I'm supposed to present a tale of patriotism, of high-minded motives and brave deeds, hardships endured with a stiff upper lip and a wry grin. I'm supposed to tell you about the brotherhood- and now sisterhood- of soldiers. But there's one thing I cannot do as I pound these typewriter keys, and that is lie. "
When I first heard about this book, I knew I had to read it. Front Lines is an alternate history of WWII where women were allowed to be drafted and fight in the war.
It follows three main characters:
Rio Richlin – a California farm girl talked into joining the war by her best friend Jenou.
Frangie Marr- An African American girl who joins due to family reasons. She wants to be a medic.
Rainy Schulterman- A Jewish-American who wants to be an intelligence officer, and to destroy the Germans.
It switches points of view every few chapters, but Rio gets focused on the most.
We also have important side characters that each of the girls have. They end up making the story even better, and even funny moments happen. We see them become comrades with the men, and gain respect as time goes on.
We follow the women though enlisting, training, and then one battle in the war. We see the struggles they face each different in their own ways.
Rio faces the general disgruntled-ness of the men about women being allowed to fight, and the hardships that come with that. Plus the hardships of training and living away from home for the first time ever, and the added in fear of going to war. Once at war she not only excels at what she was taught but does better than the men. Which causes the men to get upset at her, and blame everything else but themselves on why she did better than the.
Frangie not only has to deal with being a woman enlisted, but also the prejudice of being black. She also really struggles with the physical part of training, but excels at others. With the help of an older Sergeant she gets what she wants, but that is just the beginning of her struggle and she will suffer the most out of any of the girls.
We don't get much of Rainy's story compared to the other two. We know that she gets to be in intelligence, but it just ends up being a glorified secretary until her ability to speak German is needed and then she is immediately moved to a different department, where she gets to translate and later on even deliver a message to a set of troops.
The girls don't all meet until almost the end of the book, but when they do, they band together and take a German hostage.
"Now I know why they never let women fight wars, Too mean."
Grant did an amazing job, of telling this story. This isn't just a story of woman fighting in the war, it also seems pretty accurate with war details, and at the back Grant even lists all of the books he used for references. It does get graphic at times, but that was to be expected with a war story, and makes it seem all the more real. I can't wait for the second book, and see what happens to the women next.
"It's coming to and end, this war, but I still have a lot of story to tell. There's Sicily and Italy and France yet to write about. A whole lot of war there."