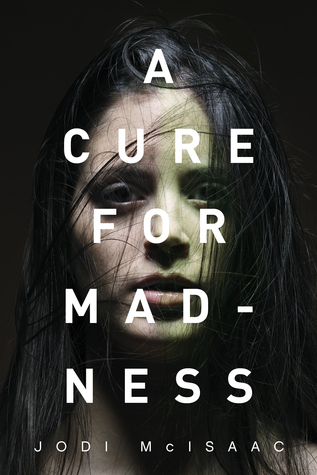 Title:
A Cure For Madness
Author:
Jodi McIsaac
Publisher:
Thomas & Mercer
Published Date:
January 19th 2016
Genre:
Adult Fiction, Mystery, Thriller, Suspense
Page Count:
299
Format:
Kindle

My Rating: ★ ★ ★
Goodreads Summary:
Clare Campbell has worked hard to create distance between herself and her troubled family. But when she receives news of her parents' murder, she's forced to return to the quiet town of Clarkeston, Maine, to arrange their funeral and take legal guardianship of her unpredictable and mentally ill brother, Wes.



While Clare struggles to come to grips with the death of her parents, a terrifying pathogen outbreak overtakes the town. She is all too familiar with the resulting symptoms, which resemble those of her brother's schizophrenia: hallucinations, paranoia, and bizarre, even violent, behavior. Before long, the government steps in—and one agent takes a special interest in Wes. Clare must make a horrifying decision: save her brother or save the world.
---------------------------------------------------------------------
My Review:
"There wasn't anything to do but wait. It was quite possible I wouldn't get a seond chance to right all my wrongs; that they would lock me in a room, or keep strapped down
for months or even years... And that was assuming a cure would ever be found. "
Clara Campbell has spent the past 10+ years running from her hometown, her family, and her secret.
Her brother is Schizophrenic, and a past drug user, her parents have spent her whole life focusing more on him and trying to help him, and leaving her to her own devices most of the time. But when she needs them most, they blame her and tell her they don't have the money to fight a legal battle against someone so powerful. Instead her brother West ends up taking matters into his own hands ending up getting the police involved and him getting sent to the psych ward of the hospital.
But when her parents get killed the night before Wes is released from the hospital, she is forced to come home and take care of him, and her parent's funeral arrangements. Once back with the help of her Uncle she is able to get everything set up.
That is until the whole town starts showing Wes Schizophrenic behavior, and a doctor that works for the government starts showing interest in Wes.
Once Clare realizes that Wes might hold the key to saving the whole town and potentially the world, she is forced to make a tough decision that will rip the siblings apart once again. After she makes this decision she starts looking for more information about what is going on and what caused it. In the process she meets an old friend who is now a doctor, a friend that she had feelings for and was willing to help her.
This story changed genres I still liked it though and found it interesting. I did figure out that if Wes was the "key" to saving the world then Clare might have the same thing as well, and that she would do what she had to in order to keep the last of her family safe and together.
Thank you to Netgalley and Thomas Mercer for providing an e-arc of this book in exchange for an honest review.