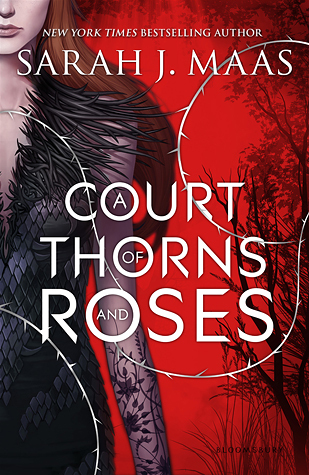 Title:
A Court of Thorns and Roses
Series:
A Court of Thorns and Roses #1
Author:
Sarah J Maas
Publisher:
Bloomsbury Children's
Published Date:
May 5th 2015 by
Genre:
Fantasy, Retellings, Fairy, NA, YA
Page Count:
416
Format:
Hardcover

My Rating:
★ ★ ★ ★ .5
Goodreads Summary:
When nineteen-year-old huntress Feyre kills a wolf in the woods, a beast-like creature arrives to demand retribution for it. Dragged to a treacherous magical land she only knows about from legends, Feyre discovers that her captor is not an animal, but Tamlin—one of the lethal, immortal faeries who once ruled their world.

As she dwells on his estate, her feelings for Tamlin transform from icy hostility into a fiery passion that burns through every lie and warning she's been told about the beautiful, dangerous world of the Fae. But an ancient, wicked shadow grows over the faerie lands, and Feyre must find a way to stop it... or doom Tamlin—and his world—forever.
---------------------------------------------------------------------
My Review:
"My priority would be to protect my family -- and I would have picked whatever side could keep them safest. I hadn't thought of it as a weakness until now."
Feyre
has to provide for her family due to promising her mother she would before she died. At the time
Feyre
didn't realize how important that was nor how hard it would be, when their family would lose everything her father would become unable to provide for them. Her sisters
Nesta
and Elaine are relatively useless when it comes to everyday life things. Well
Nesta
could be useful, but instead she chooses to be spiteful and make everyone's life hell.
One day when Feyre is out hunting (not only to provide food, but also pelts to sell) she has to make a choice kill a wolf or let it eat what will provide her family with food for several weeks. She makes a choice that she will regret and then later be glad she made.
In killing the wolf she broke a treaty made between the fairies and humans a long time ago. When she is forced to go to
Prythian
to make good on that treaty and keep her family safe.
Tamlin
not only keeps her family well taken care of, but makes sure they won't come after her.
Feyre
doesn't know any of that though and tries to get back to them, and will do anything in order to do so.
Slowly she learns that not everything is how she thought it would be in the Fairy world, and that a darkness has surrounded it causing everyone to be afraid.
When
Feyre
is sent back to the human world, she realizes how much she had grown to care for
Tamlin
and his world, and how she must get back to him in order to help him save the fairy world.
Once back though, she realizes that it was much worse, then they had ever told her, and that in order for her to help save his world, she would most likely end up dying, or being a slave for the rest of her life.
This was my first book that involved fairy's, so I really didn't know what to expect. I just knew that it was based off of Beauty and the Beast retelling and that was enough for me to read it. I was a bit wary going into this book though, due to how hyped it was and how loved Sarah J. Maas is as an Author. The hyper for this book and author are well deserved. Not only was a hooked from the first chapter, but I also was able to fly through it and I never got bored. I loved
Feyre'
s ability to provide for her family, yet still not want to have to kill, and regretting when she had to.
Feyre
was such a fighter (yes a little dumb at times), but still she did what she had to and was just trying to keep her promise. I also really liked
Nesta
surprisingly especially after
Feyre
came back and she told her what she had done.
I really hope
Nesta
is in the second book because she is just as much of a fighter as
Feyre.
Now I just have to wait for it to be released...
Warning: This book does contain some sex scenes so if you're not comfortable with that or don't like to read it then this book isn't for you.
"Because I wouldn't want to die alone, I said,and my voice wobbled as I looked at Tamlin again,forcing myself to meet his stare.Because I'd want someone to hold my hand until the end, and awhile after that.That's something everyone deserves, human or faerie."