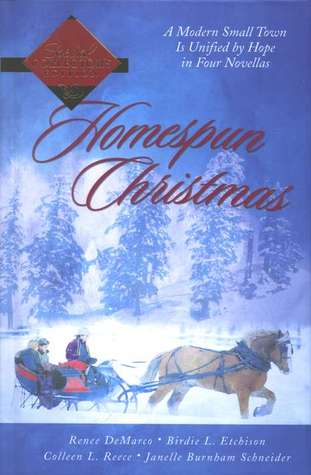 Title:
Hope For The Holidays
Series:
A Homespun Christmas Novella series
Author:
Colleeen L. Reece
Publisher:
Barbour Publishing, Inc
Published Date:
2002
Genre:
Christmas, Christian
Page Count:
94
Format:
Hardback

My Rating:
★ ★.75
Summary From Book:
Sheriff Ben Macklin and pharmacist Sarah McKay Kennedy need all the spunk inherited from their God-fearing, courageous ancestors to help save their town from extinction. Can a little romantic spark inspire them?
---------------------------------------------------------------------
My Review:
"My grandmammy taught me not to rush out and meet Old Man Trouble. She said if a body just sits back and waits, half the time he will head off in another direction and never get to you at all."
The story starts in western Washington Hamlet of Hope in the 1900s. In the first few pages we learn how the town was established and what it originally started out as and how a preacher and his friend turn it from having seven saloons to having a church and the whole community working together.
We then jump to present day where the town is slowly dying due to the logging industry having problems because of all the new rules created. But with the help of Sarah's son Mike they come up with a plan that just might save the whole town. Mike's idea is for the whole town to take part in a Home Spun Christmas where they bring tourists in and show them how Christmas used to be done before it became commercialized like it is now. Everyone likes the idea and immediately starts trying to figure out what they can do to bring in tourists. Between families using their homes
as bed
and breakfast, Loggers making wooden toys/furniture and people singing Christmas carols along the street corners. Everyone has some sort of job to do.
Not only does this plan start to work it also brings people closer together and reminds them what this town is all about and how it may be tough times, but they will all make it through somehow.
The main problem I had with this story, and why I didn't give it three stars is because of the romance in the last few pages. It was all so rushed and I mean two couples getting engaged and then married all within a few months of knowing/dating each other. I just couldn't like that part. But the rest of the story was very nice and sweet.