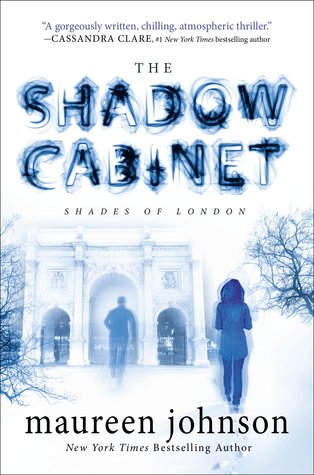 Title:
The Shadow Cabinet
Series:
Shades of London #3
Author:
Maureen Johnson
Publisher:
Putnam Juvenile
Published Date:
February 10th 2015
Genre:
Mystery, Paranormal, YA
Page Count:
376
Format:
Hardcover
My Rating:
★ ★ ★ ★ ★
Goodreads Summary:
The thrilling third installment to the Edgar-nominated, bestselling series.

Rory and her friends are reeling from a series of sudden and tragic events. While racked with grief, Rory tries to determine if she acted in time to save a member of the squad. If she did, how do you find a ghost? Also, Rory's classmate Charlotte has been kidnapped by Jane and her nefarious organization. Evidence is uncovered of a forty-year-old cult, ten missing teenagers, and a likely mass murder. Everything indicates that Charlotte's in danger, and it seems that something much bigger and much more terrible is coming.

Time is running out as Rory fights to find her friends and the ghost squad struggles to stop Jane from unleashing her spectral nightmare on the entire city. In the process, they'll discover the existence of an organization that underpins London itself—and Rory will learn that someone she trusts has been keeping a tremendous secret.
--------------------------------------------------------------------------
My Review:
"We were all afraid of the thing in front of us, and the reality of who we were fell on me all at once. None of us were fearless— we were four people too young to be doing this."
Simply put this book was everything I hoped for and more. So many questions got answered and so many things happened. I think this might be my favorite book of the series so far. I cant believe we have to wait over a year for the next one. I need the next one NOW!!