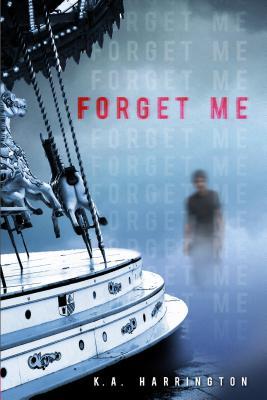 Title:
Forget Me
Author:
K. A. Harrington
Publisher:
G.P. Putnam's Sons Books for Young Readers
Published Date:
August 7th 2014
Genre:
Mystery, Contemporary, YA
Page Count:
288
Format:
Hardcover
My Rating:
★ ★ ★ .5
Goodreads Summary:
An edge-of-your seat psychological thriller with a romantic twist

On the three-month anniversary of her boyfriend Flynn's death, Morgan uploads her only photo of him to FriendShare to get some closure—but she's shocked when the facial recognition software suggests she tag him as "Evan Murphy." She's never heard of Evan, but a quick search tells her that he lives in a nearby town and looks exactly like Flynn. Only this boy is very much alive.

Digging through layers of secrets and lies, Morgan is left questioning everything she thought she knew about her boyfriend, her town, and even her parents' involvement in this massive web of lies.
---------------------------------------------------------------------------
My Review:
While I did really enjoy this book. I didn't like the insta-love, I got why it happened but still wish it wouldn't have.
Now onto the good part. I really enjoyed the mystery and how you could never figure it out until the very end pretty much. While I did have my suspicions on who the whistle blower was, I was not expecting it to be who it was.
I liked how pretty much up until the end Morgan didn't trust Evan that much and that she didn't just fully trust him right off the bat because he looked exactly like Flynn.
What I loved the most though was Morgan and Toni's friendship. I liked how even though they both had love interests going on in the end they always stuck together mostly. I was slightly worried that once Evan came into the picture Toni was going to be out of it. But thankfully that never happened.
All in all this was a enjoyable quick read.