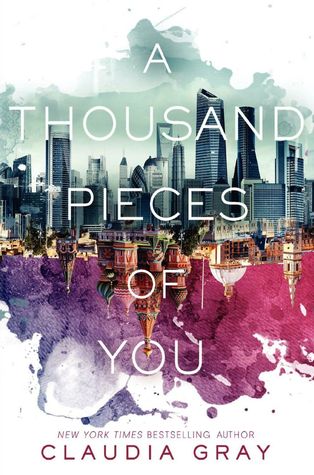 Title:
A Thousand Pieces of You
Series:
Firebird #1
Author:
Claudia Gray
Publisher:
Harper Teen
Published Date:
November 4th 2014
Genre:
YA, Science Fiction, Time Travel, Fantasy, Romance
Page Count:
368
Format:
Hardcover
My Rating:
★ ★ ★ ★ .5
Goodreads Summary:

Marguerite Caine's physicist parents are known for their radical scientific achievements. Their most astonishing invention: the Firebird, which allows users to jump into parallel universes, some vastly altered from our own. But when Marguerite's father is murdered, the killer—her parent's handsome and enigmatic assistant Paul—escapes into another dimension before the law can touch him.

Marguerite can't let the man who destroyed her family go free, and she races after Paul through different universes, where their lives entangle in increasingly familiar ways. With each encounter she begins to question Paul's guilt—and her own heart. Soon she discovers the truth behind her father's death is more sinister than she ever could have imagined.

A Thousand Pieces of You explores a reality where we witness the countless other lives we might lead in an amazingly intricate multiverse, and ask whether, amid infinite possibilities, one love can endure.
--------------------------------------------------------------------------
My Review:
"Every technology mankind invents, human beings turn against one another."
I'm not even going to lie. I read this book purely because of how pretty the cover was.
While I did really enjoy this book. I was slightly disappointed with how big of a roll the romance aspect had. I was expecting so much more about the dimensions and how it was even possible for it to happen, and how they were going to stop the bad guy. Instead what actually happened was a love story with a side of stopping the bad guys, and learning about different dimension hopping.
Even though I didn't like how big of a part the romance played. I did like the fact that it appears the love triangle will not be a problem throughout the series.
Now you're probably wondering why I gave this book such a high rating and why I enjoyed it so much? Well that would be because of the world building of all the different dimensions. You travel to several different dimension but it never felt rushed. Claudia always gave just the right amount of info about each one and compared it to how this dimension is so you never got confused.
(The fact that Imperial Russia was one dimension helped.)
All in all I can't wait until November for the next book to come out!
As a word of warning there is a steamy scene in this book that may not be suitable for younger readers.