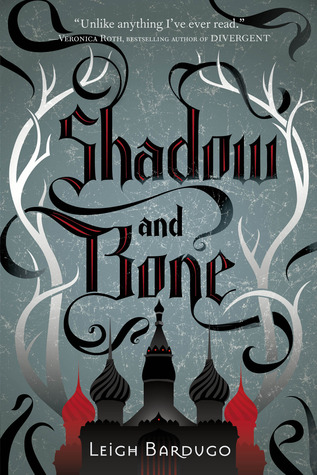 Title:
Shadow and Bone

Series:
The Grisha #1

Author:
Leigh Bardugo

Publisher:
Henry Holt and Co.

Published Date:
June 5th 2012
Genre:
YA, High Fantasy, Dystopia

Page Count:
368

Format:
Hardcover

MyRating: ★ ★ ★ ★

Goodreads Summary:
Surrounded by enemies, the once-great nation of Ravka has been torn in two by the Shadow Fold, a swath of near impenetrable darkness crawling with monsters who feast on human flesh. Now its fate may rest on the shoulders of one lonely refugee.

Alina Starkov has never been good at anything. But when her regiment is attacked on the Fold and her best friend is brutally injured, Alina reveals a dormant power that saves his life—a power that could be the key to setting her war-ravaged country free. Wrenched from everything she knows, Alina is whisked away to the royal court to be trained as a member of the Grisha, the magical elite led by the mysterious Darkling.

Yet nothing in this lavish world is what it seems. With darkness looming and an entire kingdom depending on her untamed power, Alina will have to confront the secrets of the Grisha . . . and the secrets of her heart.
--------------------------------------------------------------------------
My Review:
I loved how easy of a read this book was for me.
The world itself was interesting to learn about, and I loved how it seems to be somewhat based off Russia.
The main problem I had with it though was Alina she was so naive which didn't make much sense to me. Considering the fact that she was in the First Army, and had been an orphan I was expecting her to be more of a hero and less of a damsel in distress.
I am happy to see though that their wont be any love triangle. Well that was also kind of saddening to since it seems like the Darkling could have been an interesting character but seems to have just been made the villain way to easily.
It was nice to see a book in a series end in a way where it could have been a stand alone. But now onto reading the second book!