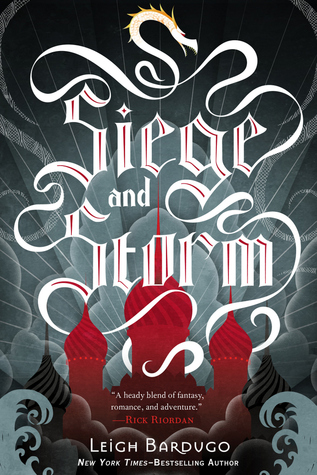 Title:
Siege and Storm
Series:
The Grisha #2
Author:
Leigh Bardugo
Publisher:
Henry Holt and Co
Published Date:
June 4th 2013
Genre:
YA, High Fantasy, Dystopia

Page Count:
435
Format:
Hardcover
My Rating:
★ ★ ★ ★
Goodreads Summary:
Darkness never dies.

Hunted across the True Sea, haunted by the lives she took on the Fold, Alina must try to make a life with Mal in an unfamiliar land. She finds starting new is not easy while keeping her identity as the Sun Summoner a secret. She can't outrun her past or her destiny for long.

The Darkling has emerged from the Shadow Fold with a terrifying new power and a dangerous plan that will test the very boundaries of the natural world. With the help of a notorious privateer, Alina returns to the country she abandoned, determined to fight the forces gathering against Ravka. But as her power grows, Alina slips deeper into the Darkling's game of forbidden magic, and farther away from Mal. Somehow, she will have to choose between her country, her power, and the love she always thought would guide her--or risk losing everything to the oncoming storm.
--------------------------------------------------------------------------
My Review:
Warning May Contain Spoilers
Pretty positive this was the fastest I've read a book in a long time.
The storyline of this one has been my favorite out of the two so far.
Alina grew so much in this one, which I was so happy to see. She still had some naive moments but nothing compared to the first one.
I really wasn't surprised though that her relationship with Mal didn't workout. While I would have loved for it to there was no way it was plausible. Especially since she is somehow seeing the darkling. (I think I've figured out how thats happening but I will wait to let you know after I read the third book.)
While we did get new characters I surprisingly liked the majority of them. I think my favorite one was Nikolai, while he is a bit of social chameleon... okay a lot of one. You can tell he is over compensating
for all the rumors about who his father is
.
That ending though... Just rip my heart out why don't you.
Genya... poor Genya. My hatred for the darkling at that moment reached a new high. I did loved seeing David come out of his shell finally.
I know that cant be the end of it though. There still has to be more fighting to happen since she didn't get to finish. I am really worried for her though and how she is going to deal with having to potentially relearn certain stuff.