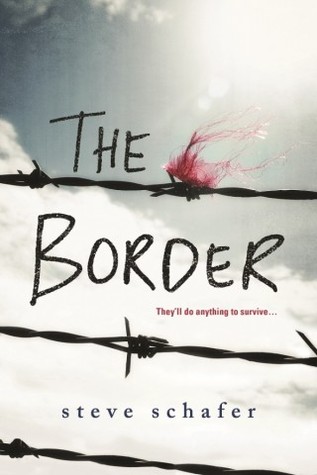 Title:
The Border
Author:
Steve Schafer
Publisher:
Sourcebooks Fire
Published Date:
September 5th, 2017
Genre:
Realistic Fiction, YA, Contemporary
Page Count:
350
Format:
Paperback

My Rating:
★ ★ ★ ★ ★
Goodreads Summary:
One moment changed their lives forever.

A band plays, glasses clink, and four teens sneak into the Mexican desert, the hum of celebration receding behind them.

Crack. Crack. Crack.

Not fireworks―gunshots. The music stops. And Pato, Arbo, Marcos, and Gladys are powerless as the lives they once knew are taken from them.

Then they are seen by the gunmen. They run. Except they have nowhere to go. The narcos responsible for their families' murders have put out a reward for the teens' capture. Staying in Mexico is certain death, but attempting to cross the border through an unforgiving desert may be as deadly as the secrets they are trying to escape...
---------------------------------------------------------------------
My Review:
Thank you to SourceBooks Fire for sending me a physical arc in exchange for my honest review.
"This is the Mexico we read about in the paper. We're all aware of the violence that surrounds us, but it seems more like wild lore, because it hasn't happened to us. It's on the front page of newspapers, not in our own backyards."
Four teenagers ranging from 15 to 17 are left with nothing after the cartel comes in and kills all of their close family and friends. When it's discovered they are still alive and a bounty is placed on them they have no choice but to cross the border and hope that it's enough to keep them safe.
"Do you know what can really kill you out there?

No.

Everything. The sun. The heat. Poisonous plants. No Water. Bad water. Snakes. Scorpions. Spiders. Wolves. Cougars. Bears. Chupacabras. That's only the desert stuff. Then there's the human element."
Pato, Marcos, Arbo, and Gladys are faced with tough decisions from the start, and things only get worse once they reach the desert. It sounds like it should be easy to cross, and in if you know what you're doing it can be. But they don't have the option of a guide or even any experience. They must cross with a letter describing what to do, and the stars to guide them.
"This is it. Good-bye Mexico. Good-bye Family... what's left. Good-bye old life. Good-bye everything."
I've always liked reading realistic fiction because it shows me a part of the world that I don't know about and it does so in a fictional way so it's not specifically attached to one person normally. That's the case with this book. Schafer not only has written a fast paced book, but also one that will leave you in a constant state of worry for the characters.
How are they going to get out this situation? , Who's shooting at them now? , Why are they so important? , No no please don't let this person die.
Were just some of the things I was thinking of while reading this book.
I really did love the family dynamic that this book showed. We have Pato and Arbo who are cousins who act more like brothers. Then we have Marcos and Gladys who are siblings. These bonds they have as a family keeps them together, and also remind them of the good times once they find out certain things.
"To love. Then. Now. Forever. I'll see you in our stars. Always."
I'm not going to lie this was tough to read at times. Because this is something that real people are dealing with and trying to escape from and it happening right now. It's something that we could help, but instead, there's talk of a wall, and more violence will be caused because of it.
For anyone who doesn't know much about the border, or how truly dangerous it is to cross it, please read this book. Not only will you see things from a new perspective, but you will also learn so much.
It's truly amazing the two different worlds that are separated by a few miles.
"We're fighting for our lives out here. They came to ride their bikes. I don't know how to make sense of this."
Schafer has done an amazing job of not only showing the struggle of crossing the border but what can make someone choose to risk everything at just the possibility of a better life.
"Daniel ("arbusto,""Arbo") Luis Ortega Romero - 16
Patricio ("Pato") Juan Manuel Ortega Maquedo - 16
Gladys Solange Salvador Guerrero - 15
Marcos Edgar Salvador Guerrero - 17
On the run from La Frontera, Who murdered our families. "