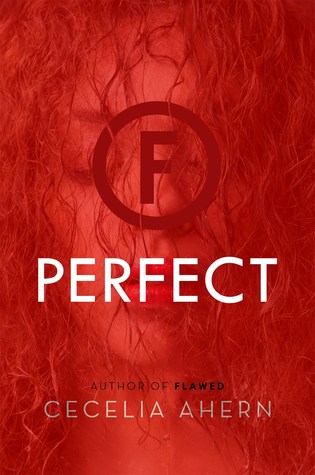 Title:
Perfect
Series:
Flawed #2
Author:
Cecelia Ahern
Publisher:
Feiwel & Friends
Published Date:
April 4th, 2017
Genre:
Dystopian,
Page Count:
341
Format:
Hardcover

My Rating:
★ ★ ★ ★ ★
Goodreads Summary:
Celestine North is Flawed.

Ever since Judge Crevan declared her the number one threat to the public, she has been a ghost, on the run with Carrick, the only person she can trust.

But Celestine has a secret—one that could bring the entire Flawed system crumbling to the ground. A secret that has already caused countless people to go missing.

Judge Crevan is gaining the upper hand, and time is running out for Celestine. With tensions building, Celestine must make a choice: save just herself or risk her life to save all Flawed people.
---------------------------------------------------------------------
My Review:
"There's the person who you think you should be and there's the person who you really are. I've lost sense of both."
Perfect ending to the Flawed duology!
"Not even justice itself is perfect."
First off I just want to say how nice it was to see this just stayed as a
duology
and not get dragged out like so many others have.
Ahern
has done an amazing job of making the two books fit together seamlessly all while, telling a story that is scarily close to our world.
Celestine
really grows and changes in this book. She goes from being the girl who keeps her head down and tried to follow her new rules; to a proud and smart young woman. She embraces her new role in taking the Guild down, is able to think quickly and stays one step ahead of everyone else (even the other flawed).
"Arrogance, greed, impatience, stubbornness, martrydom, self-deprication, self-destruction. These are the seven character flaws judge Crevan placed on us.
But Judge Crevan, there are two sides to every story.
When you tell me that I have greed, I call it desire. Desire for a fair and equal society.
When you call me arrogant, I call it pride.
When you say I am impatient, I say that I am daring to question your judgments, which are not law but mere morality courts.
You call me stubborn; I say I'm determined.
You say I want to make myself a martyr; I say I'm showing selflessness.
Self Deprication? Humility.
Self-destruction? What I did wasn't a decision to ruin my life, but a decision based on the belief that what was happening was inhuman."
Yes she does take crazy risks in this book, and convinces others to do dangerous things. However, their things that she is doing as well and she isn't just sending in others alone.
We also finally get to meet Raphael (can we just take a moment to appreciate the fact that a little person was in a positive light!), who is even better, than I ever could have imagined.
Carrick
is also finally a big part of the story, and the family that he has always wanted is shown to. We see him interact with others and it also helps Celeste make new friends and start to trust people again.
"It was on a bus that I lost my faith in humanity. It was on a bus that it was restored."
Overall I've really loved this
duology,
and while I'm sad to see it end I'm glad that ended how it has. Seeing so many people realize things aren't okay, and that even if it means getting in trouble, we have to take stand. These books are so relevant to things that are happening in today society and what could possibly happen in the future. It's a scary thought, but it also shows us what we can do in order to keep things from getting this bad and controlling.