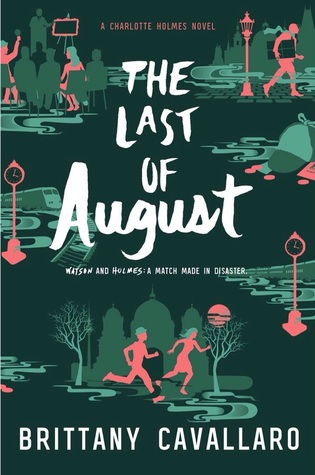 Title:
The Last Of August
Series:
Charlotte Holmes #2
Author:
Brittany Cavallaro
Publisher:
Katherine Tegen Books
Published Date:
February 14th 2017
Genre:
Mystery, Retelling, Contemporary
Page Count:
336
Format:
Hardcover

My Rating: ★ ★ ★ ★
Goodreads Summary:
Watson and Holmes: A match made in disaster.

Jamie Watson and Charlotte Holmes are looking for a winter-break reprieve after a fall semester that almost got them killed. But Charlotte isn't the only Holmes with secrets, and the mood at her family's Sussex estate is palpably tense. On top of everything else, Holmes and Watson could be becoming more than friends—but still, the darkness in Charlotte's past is a wall between them.

A distraction arises soon enough, because Charlotte's beloved uncle Leander goes missing from the estate—after being oddly private about his latest assignment in a German art forgery ring. The game is afoot once again, and Charlotte is single-minded in her pursuit.

Their first stop? Berlin. Their first contact? August Moriarty (formerly Charlotte's obsession, currently believed by most to be dead), whose powerful family has been ripping off famous paintings for the last hundred years. But as they follow the gritty underground scene in Berlin to glittering art houses in Prague, Holmes and Watson begin to realize that this is a much more complicated case than a disappearance. Much more dangerous, too.

What they learn might change everything they know about their families, themselves, and each other.
---------------------------------------------------------------------
My Review:
"There's not a lot you can control, you know. Where you're born. Who your family is. What people want from you, and what you are underneath it all. When you have so little say in it all, I think it's important to exercise a measure of control when given the opportunity."
Before I read this book, I was a little worried about Charlotte having magically changed now that her and Jamie were a couple. Thankfully she hadn't, she was still the same old Holmes who now cares for someone, but is still truthfully afraid to let him in and see all of her. She still need to feel like she is in control and she does that by keeping him at a distance and running whenever he gets to close. Because of this Jamie is feeling like he's useless and now that the mystery of who was trying to kill them is gone, that they won't make it and it was just a phase for Charlotte. Even though they are meeting spending the holidays with each others families and appearing to be getting closer than ever.
"I like your flat because you grew up here and I like eating your dinner because it's yours, which makes it better than mine."
That is until Charlotte's uncle goes missing after only a few days at the family home, as well as many other things going on as well that appear to not be connected, but of course Charlotte thinks they are.
This leads us onto the big adventure that finally started happening about a quarter of the way through the book.
Though because of the massive tension between Jamie and Charlotte due to the distance they have put between each other this mystery is a little bit more complicated to solve.
It involves help not only from Charlotte's brother, but a person that Jamie thought was dead as well.
While the last mystery they had to solve was dangerous, this one was far more dangerous. Not only because of the crossed family lines, the relationship problems, and a forging scheme things get rather messy.
"She's a child that that thinks she can play with adults, and she needs to understand that this isn't a game."
Overall I ended up enjoying this one just as much as the first one, if not a little bit more because of how the characters sticked true to how they were in the first book and didn't just suddenly change.