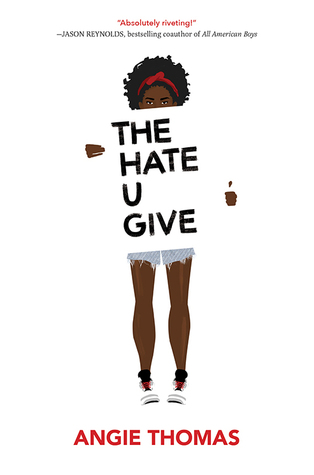 Title:
The Hate U Give
Author:
Angie Thomas
Publisher:
Balzer + Bray
Published Date:
February 28th 2017
Genre:
Realistic Fiction, YA
Page Count:
464
Format:
Hardcover

My Rating: ★ ★ ★ ★ ★
Goodreads Summary:
Sixteen-year-old Starr Carter moves between two worlds: the poor neighborhood where she lives and the fancy suburban prep school she attends. The uneasy balance between these worlds is shattered when Starr witnesses the fatal shooting of her childhood best friend Khalil at the hands of a police officer. Khalil was unarmed.
Soon afterward, his death is a national headline. Some are calling him a thug, maybe even a drug dealer and a gangbanger. Protesters are taking to the streets in Khalil's name. Some cops and the local drug lord try to intimidate Starr and her family. What everyone wants to know is: what
really
went down that night? And the only person alive who can answer that is Starr.
But what Starr does or does not say could upend her community. It could also endanger her life.
---------------------------------------------------------------------
My Review:
"People are realizing and shouting and marching and demanding. They're not forgetting. I think that's the most important part."
This is a review I've really struggled on writing, not just because I want to get it right. But because I also wanted to educate myself on certain things. Please if I get anything wrong let me know so I can change it and learn from this.
Starr is a teenager who is trying to go back and forth between her rich white school and her home life in an "unsafe" neighborhood. This is all she has known, she knows that by going to a different school she is being given different opportunities to the ones she would have had if she went to school in her neighborhood with her childhood friends. As can be expected this causes a divide and a fine line she has to balance on to keep everyone happy. Sadly that all comes crashing down one night when her childhood best friend Khalil gets shot and killed.
Now I'm not going to say anything else about the other events that happened after Khalil dies because I feel like they are all what makes this book so much more special and I don't want to ruin this for anyone.
"Sometimes you can do everything right and things will still go wrong. The key is to never stop doing that."
Lets think of some happier moments now. Starr relationship with her boyfriend Chris. Now I felt like this one wasn't going to last due to Starr not wanting to talk about certain things that were affecting her for fear of what he was going to say, how he was going to react to them. But it did through Chris's persistence and willingness to learn and change his mindset and to be there with no questions answered until after the fact.
"Thats the problem. We let people say stuff, and they say it so much that it becomes okay to them and normal for us. What's the point of having a voice if you're gonna be silent in those moments you shouldn't be."
Overall I think Thomas did a wonderful job of not only making me see things through Starr's eyes, but really understand how they all felt about this tragedy.. A young man's life was taken too soon and it shouldn't have been. This is something that has been happening time and time again and honestly every time, I've felt sick to my stomach. Because of how the media tries to spin things and make the victim look as if they deserved it. It's not right, but sadly I don't see it changing quickly.
"I hate that I let myself fall into that mind-set of trying to rationalize his death. And at the end of the day, you don't kill someone for opening a car door. If you do, you shouldn't be a cop."

If you haven't read this book yet, please do not only is it a big learning experience to read this book, it's also worth all the hype!