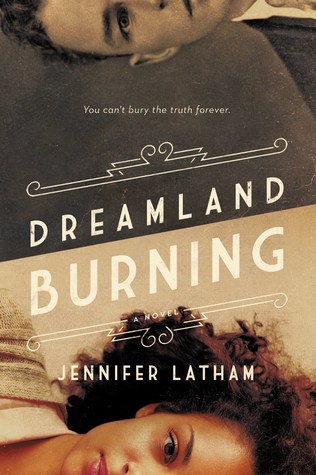 Title:
Dreamland Burning
Author:
Jennifer Latham
Publisher:
Little, Brown Books for Young Readers
Published Date:
February 21st 2017
Genre:
Historical Fiction, Mystery, YA
Page Count:
365
Format:
Hardcover

My Rating:
★ ★ ★ ★ ★
Goodreads Summary:
Some bodies won't stay buried. Some stories need to be told.

When seventeen-year-old Rowan Chase finds a skeleton on her family's property, she has no idea that investigating the brutal century-old murder will lead to a summer of painful discoveries about the past, the present, and herself.

One hundred years earlier, a single violent encounter propels seventeen-year-old Will Tillman into a racial firestorm. In a country rife with violence against blacks and a hometown segregated by Jim Crow, Will must make hard choices on a painful journey towards self discovery and face his inner demons in order to do what's right the night Tulsa burns.
---------------------------------------------------------------------
My Review:
"The lives that ended that night mattered. It was a mistake for this city to forget, and it's even bigger one to pretend everything's fine now. Black men and women are dying today for the same reasons they did in 1921. And we have to call that out, Rowan. Every single time."
Starting this book I knew it was about Rowan a modern day teenager and a William a teenager from the 1920's.
What I wasn't expecting was how the struggles that William saw and dealt with himself regarding racism are still present today. I will admit though most of the time it felt like William was just treated like a white young man, by everyone despite him being half Osage Indian. Which was little difficult to believe at times when you consider where he lived.
Then when you see Rowan's story and how her parents are very successful and have really made a name for themselves yet are still feeling the pressures of racism. It just really shows how we as a country still have so much that needs to change.
"For the first time in a long time, I thought I knew where I was going. Like maybe there was something useful I could do with my life after all."
I honestly still want to read so much more of both of their stories. I loved how William grew and changed his opinion as the story went and he stopped letting himself just go with the flow of his "best friend". He really became his own person and it was so nice and I'll admit scary at times to see. It was so nice to see him become the person he did by the end of the book.
Rowan I'll admit had a little bit of spoiled child when I first started this book. Once she started investigating though and then working at her summer job, though she changed so much. She started to realize certain things at the same time I was and her portion of the book really made me re-evaluate how I think/feel about certain things. It just really made me realize things that I hadn't even thought about before.
"Pleased as I am that greenwood rebuilt, I'll always remember it the way I saw it first: Lights flickering on over the Dreamland Theater, families strolling along streets they'd built together. For on that warm spring night, it wasn't just a promise I beheld, but a thing real as bricks and mortar and hope."
Overall I have nothing, but good things to say about this book. Rowan's world was pretty realistic in my opinion for modern day, and Williams was fairly realistic on certain things.
I had no idea anything like this happened. It's book like these that always brings me back to loving historical fiction. The mix of present and past is so well done that I was invested in both story lines and needed/wanted to find out how exactly they would connect. And If all the questions I had from the past story line would be answered in the present story line.
I was not disappointed with the ending and I hope more books like this one start becoming popular and written.
Latham if you can please write more like this, because you did such an amazing job of keeping me on my toes with both story-lines, all while bringing something to my attention that had tried to be erased from history.

I would just like to apologize to everyone who has lost someone they cared about because of the awful actions that happened in this book and are still happening today. I will never be able to take away that pain, but I will gladly listen and learn from you, and try to make things better going into the future.