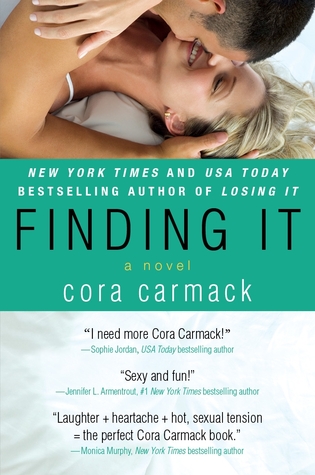 Title:
Finding It
Series:
Losing It #3
Author:
Cora Carmarck
Publisher:
William Morrow Paperbacks
Published Date:
October 15th 2013
Genre:
NA, Contemporary, Travel
Page Count:
320
Format:
Kindle

My Rating:
★ ★
Goodreads Summary:
Sometimes you have to lose yourself to find where you truly belong...

Most girls would kill to spend months traveling around Europe after college graduation with no responsibility, no parents, and no-limit credit cards. Kelsey Summers is no exception. She's having the time of her life . . . or that's what she keeps telling herself.

It's a lonely business trying to find out who you are, especially when you're afraid you won't like what you discover. No amount of drinking or dancing can chase away Kelsey's loneliness, but maybe Jackson Hunt can. After a few chance meetings, he convinces her to take a journey of adventure instead of alcohol. With each new city and experience, Kelsey's mind becomes a little clearer and her heart a little less hers. Jackson helps her unravel her own dreams and desires. But the more she learns about herself, the more Kelsey realizes how little she knows about Jackson.
---------------------------------------------------------------------
My Review:
"Everyone deserves one grand adventure, that one time in life that we always get to point back to and say, "Then … then I was really living."
After reading the other two books in this series I was interested in seeing what type of adventures Kelsey was actually on in her travels around Europe. They always sounded fun and exciting when she was talking to her friends so I was hoping for a story of adventure and self discovery, what I wasn't expecting was the deeply repressed problems Kelsey had.
"The best parts of life are the things we can't plan. And it's a lot harder to find happiness if you're only searching in one place. Sometimes, you just have to throw away the map. Admit that you don't know where you're going and stop pressuring yourself to figure it out. Besides...a map is a life someone else already lived. It's more fun to make your own."
Not saying that those problems made the story less enjoyable, it was just a bit of a shock especially when you then add on Hunts problems things got very messy. While Kelsey just tries to run from her problems Hunt has actually had to start dealing with his and has now decided to make it his mission to help Kelsey do the same. The only problem is she doesn't really want to. She's fine with running for the most part, sure it's getting exhausting but it beats being at home with her family. Along the way though they start talking and working things out all while exploring Europe and trying to get the other one to cave first on acting on their feelings for each other.
"New Life Realization #1:
Being an adult is hard work. I know people tell you this growing up, but it doesn't really sink in until you're living it, waist deep in the swamps of no-free-time and not-enough-money.
New Life Realization #2:
It's worth it."
I also liked the ending for this one. Kelsey started dealing with things and actually figured out what she wanted to do with her life. Of course the other problems worked themselves out for the most part as well making it a nice happish ending.
For me what I really didn't like about this book though compared to the others was the sex scenes. Yes I know its new adult and that is expected, but in the other two I don't remember their being so much detail. So for me it just wasn't something I wanted to read.