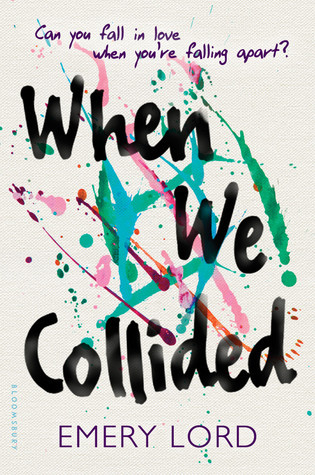 Title:
When We Collided
Author:
Emery Lord
Publisher:
Bloomsbury USA Childrens
Published Date:
April 5th 2016
Genre:
YA, Contemporary, Mental Health
Page Count:
352
Format:
Hardcover

My Rating:
★ ★ ★
Goodreads Summary:
We are seventeen and shattered and still dancing. We have messy, throbbing hearts, and we are stronger than anyone could ever know…

Jonah never thought a girl like Vivi would come along.

Vivi didn't know Jonah would light up her world.

Neither of them expected a summer like this…a summer that would rewrite their futures.

In an unflinching story about new love, old wounds, and forces beyond our control, two teens find that when you collide with the right person at just the right time, it will change you forever.
---------------------------------------------------------------------
My Review:
"I'm just looking for some kind of permanence, so my mark will linger on the world once I'm gone, in the places where I found joy. Does that make any sense?"
Vivi is a young girl who is summering in Verona Cove with her mom this summer, and she is determined to make it count. She will live life to the fullest she can and maybe if she's lucky enough even convince her mom to let them stay.
Jonah's family has recently dealt with a tragedy that has affected them all in very different way, but has also left him and his older siblings in charge of making sure the 'littles' are cared for and that the house doesn't fall into chaos. For the most part they are all able to make it work, but its also all starting to build up on them and they are at a loss of what to do.
When Vivi and Jonah meet, Vivi is truly a tornado that has come crashing into Jonah's life and at first seems to make it all a little easier to deal with. She seamlessly helps out with the 'littles' and makes Jonah truly smile and feel hopeful for the first time in a while. But of course its too good to be true and Vivi starts doing reckless things and not listening when she should. At first its easy to just say it was being a teenager, but after awhile it became very obvious that Vivi was hiding something and that it was all just a matter of time before it came out.
Before I get to what I liked about this book lets get to the parts that completely annoyed me. If this town really was as close knit as they kept mentioning that it was, then why in the world was no one stepping in to help? It's obvious they could tell something was going, yet no one really did much of anything to help Jonah and his siblings out. Sure when the time came they helped with the restaurant, but besides that they all just kept quite. It just bother me. Now lets move back on to what I somewhat liked about this book.
Overall I enjoyed this book at first. But towards the middle and end I started to lose interest in the characters. Vivi went from being this seemingly carefree person to someone I was honestly afraid was going to hurt herself and then in turn hurt everyone around her. I lost hope for her honestly, because it seemed like the adult in her life didn't know how to control her and make sure she was doing what she should have been doing. As for Jonah I had such high hopes for him and I was glad to see that even though he was going through his own tough stuff and that even though Vivi was being completely careless and clueless with him he still stuck by her and was wanting to stick around if she wanted him to. Yet he also understood when she didn't want that and gave her her space and did what he could from the sidelines.
The only reason I was able to give this book three stars is because it made me think. Not just about mental health, but also about the relationships we all have not only with our families, but with are friends as well. How we all death with darkness differently and how no one truly knows what to do to help, because every person is different and what every person needs is different.
So while I didn't enjoy this book as much as I was hoping or it seems other people have, I am glad I read it.
Also thanks to Filipe
+The YA Reader
and Britt
@grlonkindlefire
for allowing me to be apart of your book read along. At times it was the only thing that got me to finish the book.
"I think we'll more than survive. I think we'll be good. Maybe even great."