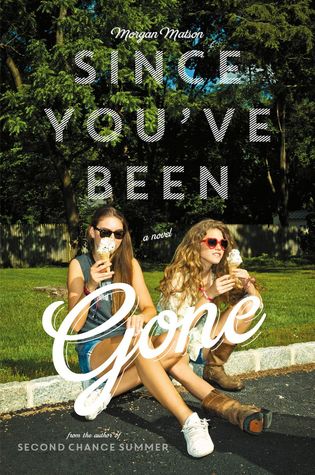 Title:
Since You've Been Gone
Author:
Morgan Matson
Publisher:
Simon & Schuster Children's
Published Date:
July 3rd 2014
Genre:
Contemporary, YA,Realistic Fiction
Page Count:
449
Format:
Paperback

My Rating:
★ ★ ★ ★
Goodreads Summary:
It was Sloane who yanked Emily out of her shell and made life 100% interesting. But right before what should have been the most epic summer, Sloane just…disappears. All she leaves behind is a to-do list.

On it, thirteen Sloane-inspired tasks that Emily would normally never try. But what if they could bring her best friend back?

Apple picking at night? Okay, easy enough.

Dance until dawn? Sure. Why not?

Kiss a stranger? Um...

Emily now has this unexpected summer, and the help of Frank Porter (totally unexpected), to check things off Sloane's list. Who knows what she'll find?

Go skinny-dipping? Wait...what?
---------------------------------------------------------------------
My Review:
"You're so scared of things sometimes, and for no reason," Sloane said, her voice quieter. "And sometimes, I wish..." She didn't finish the sentence, just let it hang in the car between us.
I wished it too - whatever it was that in that moment Sloane wanted me to be, that I was falling short of."
Since becoming best friends with Sloane, Emily has been her shadow. Sloane is the outgoing one of them and makes the majority of the decisions on things they do. But because of that Emily never does anything on her own, unless Sloane leaves her with tasks. This summer though everything changes. Sloane leaves unexpectedly, but mails Emily a list of things she needs to do this summer that will lead her to Sloane at the end of it.
With the help of a few new friends that Emily makes along the way she slowly checks things off of the list and gains confidence along the way. I loved seeing Emily make friends without Sloane we really get to see her personality and what she likes and dislikes for herself. Not just ones that are based off of what Sloane wants her to do/say.
"I don't think you have to do something so big to be brave. And it's the little things that are harder anyway."
Overall I really liked this book. I was a little skeptical going into it, but the farther I got into the book I realized that this is so much more than just another Contemporary. It's a story about figuring out who you are, and making new friends along the way even if you do need a push in that direction at times to get going. I also surprisingly didn't mind the romance, wasn't a huge fan of it at first because he still technically had a girlfriend (you could tell from the start it was failing). This book also touched on feeling like always being second choice and how it can affect you, even when you act like it doesn't and the other person most of the time has no idea that they're doing it.