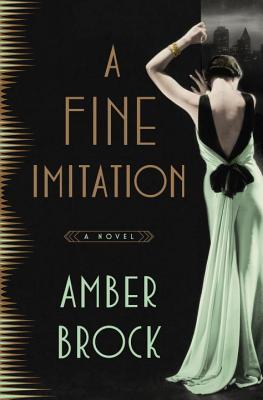 Title:
A Fine Imitation
Author:
Amber Brock
Publisher:
Crown
Published Date:
May 3rd 2016
Genre:
Historical Fiction, Art, Adult
Page Count:
304
Format:
Kindle
Source:
Netgalley & Publisher

My Rating:
★ ★ ★
Goodreads Summary:
Set in the glamorous 1920s, A Fine Imitation is an intoxicating debut that sweeps readers into a privileged Manhattan socialite's restless life and the affair with a mysterious painter that upends her world, flashing back to her years at Vassar and the friendship that brought her to the brink of ruin.

Vera Bellington has beauty, pedigree, and a penthouse at The Angelus—the most coveted address on Park Avenue. But behind the sparkling social whirl, Vera is living a life of quiet desperation. Her days are an unbroken loop of empty, champagne-soaked socializing, while her nights are silent and cold, spent waiting alone in her cavernous apartment for a husband who seldom comes home.

Then Emil Hallan arrives at The Angelus to paint a mural above its glittering subterranean pool. The handsome French artist moves into the building, shrouds his work in secrecy, and piques Vera's curiosity, especially when the painter keeps dodging questions about his past. Is he the man he claims to be? Even as she finds herself increasingly drawn to Hallan's warmth and passion, Vera can't supress her suspicions. After all, she has plenty of secrets, too—and some of them involve art forgers like her bold, artistically talented former friend, Bea, who years ago, at Vassar, brought Vera to the brink of catastrophe and social exile.

When the dangerous mysteries of Emil's past are revealed, Vera faces an impossible choice—whether to cling to her familiar world of privilege and propriety or to risk her future with the enigmatic man who has taken her heart. A Fine Imitation explores what happens when we realize that the life we've always led is not the life we want to have.
---------------------------------------------------------------------
My Review:
This book is told in two different time periods following the same main character.
First we see Vera in 1913 at college and working towards a degree. Here she is away from her rather rude and controlling mother, and doing mostly what she wants to do as long as its following the rules. That is until a new classmate named Bea arrives. Once they are friends we see Vera start to do more fun things and not just be studying all the time. As well as making Bea be a somewhat better person.
Then we have Vera in 1923 as a married woman who is a social elite. She is a very lonely woman in this time period. While yes she is busy with a social calendar and keeping up appearances, she isn't doing anything that she loves, or has a passion for. With a husband that has no real interest in her, besides making society thinking they are a loving couple. That is until one day the woman in her building decide they want a mural in the swimming pool, and that is when she starts to have more life in her. She is the one that is to find an artist to paint it and make sure that they are qualified. Once she does and we meet the man we see her start to shy away from this as well. Mostly due to the fact that Mr. Hallan keeps showing a lot of interest in her making her very uncomfortable, while at the same time telling no one who he really is, so no one fully knows him.
As time goes on and the relationship grows painfully slow, until finally one of them gives in and starts something that they can never go back on. We see Vera really come to life. Not only does she have passion again, but she is more herself then she has been in a very long time.
Overall this book was a bit of a disappointment to me. I found it to be rather dull at times with dealing with way too much info about society and its senseless disagreements, that I just lost interest in after a while. Personally I would have enjoyed it more if we got to see more of Vera's younger life back in 1913 and a little ways after, instead of it being so focused in 1923 and her life now. While I don't agree with what Vera and Hallan were doing, I was happy with the end result. With Vera finally choosing something for herself, instead of just doing things to please those around her. I just wish it had happened sooner.