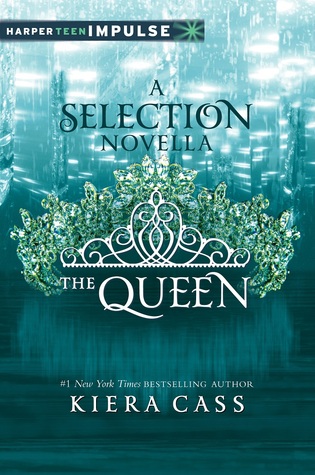 Title:
The Queen
Author:
Keira Cass
Series:
The Selection 0.4
Publisher:
HarperTeen Impulse
Published Date:
December 2nd 2014
Genre:
Dystopia, YA, Fantasy
Page Count:
72
Format:
Kindle

My Rating:
★ ★ ★ ★ ★
Goodreads Summary:
Before America Singer's story began, another girl came to the palace to compete for the hand of a different prince….
Don't miss this digital original novella set in the captivating world of Kiera Cass's #1
New York Times
bestselling Selection series. This prequel story takes place before the events of
The Selection
and is told from the point of view of Prince Maxon's mother, Amberly. Discover a whole new Selection with this inside look at how Maxon's parents met—and how an ordinary girl named Amberly became a beloved queen.
---------------------------------------------------------------------
My Review:
"I'm not used to any of this. The food is strange. The clothes are strange. It even smells different here, but I can't quite pinpoint what it is."
After I read the prince I was really intrigued to see what his mother was like and if we could get some insight into why his dad was such a difficult man to deal with. This book delivered just that, not only did it show why he had no other siblings, but why the King and Queen acted the way they did.
The king was so controlling because his own parents had been an awful match for each other. His way of counteracting their awful parenting was to control everything as much as he could. While it did work and his bride did understand. You can see exactly why his son had a problem with it.
We also got to see why the Queen herself was so calm and so loyal to the King, and that she wasn't so different from America either. I loved this story and I hope we get to see more of the queen in future books, because she is a caring person who just wants the best for her son.
Now I finally get to read the Elite!
"You've kept my secrets, and I assure you, if you marry me, there will be scores more to keep. You don't judge me, or seem started by much. You're soothing. I'm desperate
for peace. I think you might be the only chance I have at that."