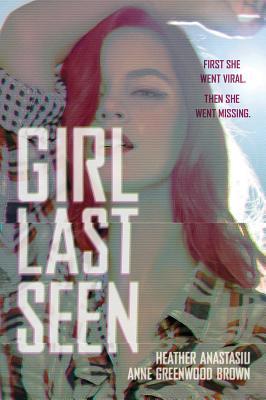 Title:
Girl Last Seen
Author:
Heather Anastasiu and Anne Greenwood Brown
Publisher:
Albert Whitman & Company
Published Date:
March 1st 2016
Genre:
Realistic Fiction, Mystery, Contemporary, YA
Page Count:
288
Format:
Kindle

My Rating:
★ ★ ★
Goodreads Summary:
Kadence Mulligan's star was rising. She and her best friend, Lauren DeSanto, watched their songs go viral on YouTube, then launched a solo career when a nasty throat infection paralyzed Lauren's vocal chords. Everyone knows Lauren and Kadence had a major falling-out over Kady's boyfriend. But Lauren knows how deceptive Kadence could be sometimes. And nobody believes Lauren when she claims she had nothing to do with the disappearance. Or the blood evidence . . .

As the town and local media condemns Lauren, she realizes the only way to clear her name is to discover the truth herself. Lauren slowly unravels the twisted life of Kadence Mulligan and finds there was more to her than she ever knew. But will she realize she's unknowingly playing a part in an elaborate game to cover up a crime before it's too late?
---------------------------------------------------------------------
My Review:
"That was Kady for you. Inspiring devotion any loyalty. How did she do it? Why did we all fall for it?"
Kady was a rising youtube start with a promising career ahead of her. She originally had been a part of a two person group with Lauren. But when Lauren got sick and her vocal cords became damaged she decided to keep going until Lauren got better, if she ever did. With this caused their friendship to fall apart and Kady to become paranoid it seemed.
When Kady goes missing after one of her performances Lauren becomes the number one suspect along with her boyfriend. Both have possible motives and at different times you suspect both could have done it, but then Jude comes into the picture. He was Lauren's best friend before Kady and he has every motive possible motive to want Kady gone.
This was a surprising story with many twists and turns and lies that get revealed. By the end of the story you realize who Kady really was and that more people than the police were looking at had the motive. This did fall a bit flat for me for reasons I still can't figure out. I think the biggest reason was the ending. I didn't see it coming at all. I found it a bit weird though because you think it would have been mentioned somewhere in the story at least even it was just an offhand comment.

I received an advance reader copy of this book from the publisher via NetGalley in exchange for my honest review.