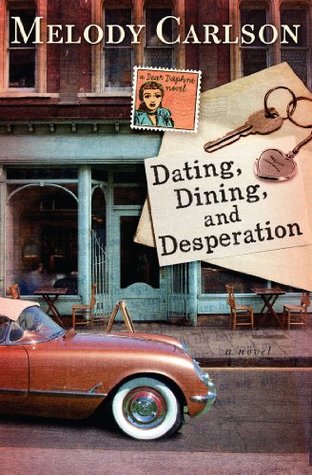 Title:
Dating, Dining, and Desperation
Series:
Dear Daphne #2
Author:
Melody Carlson
Publisher:
B&H Publishing Group
Published Date:
February 4th 2014
Genre:
Christian Fiction, Contemporary, Romance
Page Count:
323
Format:
Kindle

My Rating:
★ ★ ★ ★
Goodreads Summary:
Daphne Ballinger has learned to accept her deceased, eccentric aunt's strange request that she marry in order to inherit her estate, along with taking over her aunt's hometown paper's advice column.

But knowing and accepting that God's will be done becomes harder when a new neighbor, a divorced socialite, learns of Daphne's predicament and takes on the task of finding her the perfect man, even if it includes speed dating. When God does open Daphne's heart, it is instead to take in a young girl left parentless and in the care of her dying grandmother. It may be a temporary arrangement until the girl's uncle returns from the Marines, but God uses Daphne to speak His heavenly love and protection into the life of the child -- whom Daphne soon discovers has a very handsome and single uncle.
---------------------------------------------------------------------
My Review:
" Funny how a small town can show a guy's true colors much more effectively than a big city. It's like people can hide themselves in the busyness of New York. You think you know them… but you really don't."
May Contain Spoilers
This book starts right where the first one ended and just keep going on with the story. Daphne is still living in her Aunt's house and writing the advice column, but she is also now writing a novel as well. This book really starts getting interesting when Daphne gets a new neighbor Sabrina who is a divorcee who is from Atlanta and is used to having money. Now I was expecting to dislike Sabrina and I did at first, but as we got to know her story I started liking her and thinking that she is exactly what Daphne needs in a friend right now. Not only does Sabrina end up helping Daphne redo her wardrobe, but she also gets her more into the dating game. Daphne doesn't really want to date though, and after several don't go so great she gets discouraged and decides to take a break for a while. Then she meets Mabel, who is a young girl who has had to go and live with her grandma Vera. The only problem with this is Vera isn't doing so well herself, leaving Mabel to her own devices most of the time. As Daphne starts helping Mabel and Vera out she starts entertaining the idea of maybe adopting/fostering Mabel if anything were to happen to Vera, except before she can talk to Vera about this a death happens leaving things slightly up in the air.
Overall I enjoyed this one just as much as the first one in this series. At times everyone trying to set up Daphne does get a bit annoying, I just remind myself that most of them are trying to help her with a goal Aunt Dee had put into her will for Daphne to complete. I really liked how not only did Daphne help Mabel and Vera, but she got others to as well to try and make things better for both of them all with the kindness of their hearts. I can't wait to see what happens with the next one and what happens to Daphne and Mabel.
Thank you to Netgalley and B&H Books for an E-Arc of the book in exchange for my honest review.