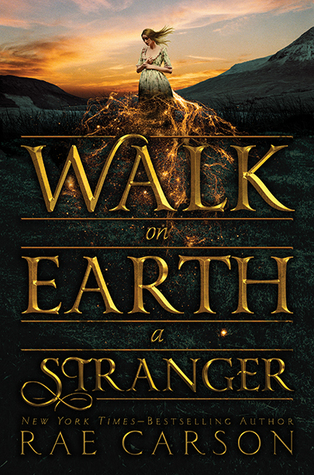 Title:
Walk on Earth a Stranger
Series:
Gold Seer Trilogy #1
Author:
Rae Carson
Publisher:
Published Date:
Genre:
YA. Historical Fiction, Western, Magic, Fantsay
Page Count:
Format:
Hardcover
My Rating:
★ ★ ★ ★ ★
Goodreads Summary:
Gold is in my blood, in my breath, even in the flecks in my eyes.

Lee Westfall has a strong, loving family. She has a home she loves and a loyal steed. She has a best friend—who might want to be something more.

She also has a secret.

Lee can sense gold in the world around her. Veins deep in the earth. Small nuggets in a stream. Even gold dust caught underneath a fingernail. She has kept her family safe and able to buy provisions, even through the harshest winters. But what would someone do to control a girl with that kind of power? A person might murder for it.

When everything Lee holds dear is ripped away, she flees west to California—where gold has just been discovered. Perhaps this will be the one place a magical girl can be herself. If she survives the journey.
---------------------------------------------------------------------
My Review:
"Only way to reach the green grass of Oregon or the sweet gold of California is through hell itself."
MAY CONTAIN SPOILERS
It has been a long time since I've read a book that is a western so I wasn't even sure if I would like this type of book anymore, but I am so glad I did. I loved this book and how brave Leah is.
When Leah's parents are killed she is forced into making a very tough decision leave the farm she has worked so hard to keep up in order to go California or to stay and become trapped with someone who may want to harm her. With this choice she also had to figure out how to keep her "witchy powers" secret.
Once she has made her decision she realizes that she will have to hide her identity in order to make it their safely. While along the way she meets a wide range of people, some good, some bad, and some a little bit of both. She also makes a lot of new friends that are willing to help her along the way and keep her safe after they reach their destination.
I really did love this book. I loved how things that had never been talked about before were talked about. (How she dealt with hiding her time of the month and what confirmed bachelor meant) These were things that I had never seen be talked about before and while they were just briefly mentioned I found it refreshing and informative.
Every time Leah was almost found out it was stressful and made you feel like you were in her shoes as well and when she was finally found out it wasn't the end of the world like I thought it would be. Carson did an amazing job of keeping the "witchy powers" and the real history of wagon trains true to what we've mostly been taught about them and made them work together perfectly.
I can't wait to read the second book in this trilogy and see what happens to Leah and her friends next.