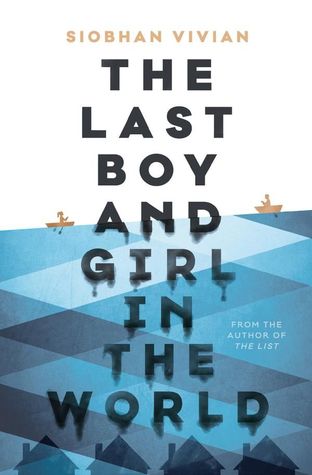 Title:
The Last Boy And Girl In The World
Author:
Siobhan Vivian
Publisher:
Simon & Schuster Books for Young Readers
Published Date:
April 26th 2016
Genre:
Contemporary, YA, Realistic Fiction
Page Count:
320
Format:
Kindle Edition

My Rating:
★ ★ ★.5
Goodreads Summary:
What if your town was sliding underwater and everyone was ordered to pack up and leave? How would you and your friends spend your last days together?
While the adults plan for the future, box up their possessions, and find new places to live, Keeley Hewitt and her friends decide to go out with a bang. There are parties in abandoned houses. Canoe races down Main Street. The goal is to make the most of every minute they still have together.
And for Keeley, that means taking one last shot at the boy she's loved forever.
There's a weird sort of bravery that comes from knowing there's nothing left to lose. You might do things you normally wouldn't. Or say things you shouldn't. The reward almost always outweighs the risk.
Almost.
It's the end of Aberdeen, but the beginning of Keeley's first love story. It just might not turn out the way she thought. Because it's not always clear what's worth fighting for and what you should let become a memory.
---------------------------------------------------------------------
My Review:
"We're trying to make the best out of a bad situation.We're making lemonade out of lemons." "Is that what you call it?" he chuckled "Because I think you're trying to pretend it isn't happening."
Keeley's world is falling apart. When rain just keeps happening every day for months, the ground her town sits on starts shifting and eventually even mudslides start happening. But this isn't what causes everything to start changing. The Mayor and Governor of where they live had decided to make a deal and buy out everyone in the town in order to make something new. The problem though is they didn't tell everyone this until after all of the rain started happening and the whole place started to flood.
Most people just went along with it that is until Keeley's dad steps in and starts making it his new purpose in life to save the town. He actually knows somewhat to do, and even starts repairing the houses damaged if the families wanted him to. This is so nice to see after we learn what happened to him several years ago.
Keeley does have good intentions; she just always ends up trying to cover everything up with something else instead of actually dealing with what was happening. Jesse doesn't help with this either. He is also trying to avoid what is happening. Except he takes things even farther then Keeley does normally. At first I thought they were okay together, but after a while and several of their antics later, you start seeing flaws between them and what drives both of them to do these things. Plus I really wanted her to end up with someone else who might seem like a good two shoes, but he has a good reason to be and just wants to try and make his dad proud of him.
As for Keeley's two best friends Morgan and Elise. I had mixed feelings about them. I liked Elise and I got why she was so upset with Keeley, she had every right to be considering what was happening to her. Morgan was a good friend to her as well, and she really tried to help her, but after a while she got tired of Keeley avoiding the problem all of the time, and constantly trying to make a joke out of everything.
Overall I did enjoy this book, but I found Keeley to not be that great of a person. This was a very easy book to read. I really liked Vivian's writing style and how she made the characters seem like real teenagers for a change; this is something that's happening less often in Young Adult books recently. I really want to read more of her books, and see how the other ones are compared to this one.
I received an advance reader copy of this book from the publisher via NetGalley in exchange for my honest review.