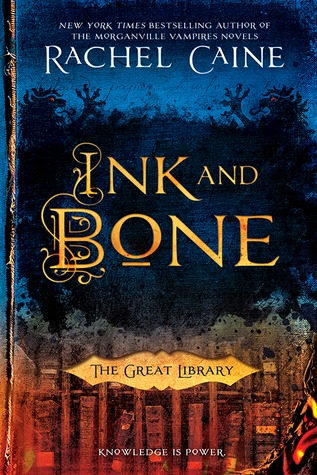 Title:
Ink and Bone
Series:
The Great Library #1
Author:
Rachel Caine
Publisher:
NAL
Published Date:
July 7th, 2015
Genre:
Alternate History, Historical Fiction, Fantasy, Steam punk,YA
Page Count:
352
Format:
Kindle

My Rating:
★ ★ ★ ★ ★
Goodreads Summary:
In an exhilarating new series, New York Times bestselling author Rachel Caine rewrites history, creating a dangerous world where the Great Library of Alexandria has survived the test of time.…

Ruthless and supremely powerful, the Great Library is now a presence in every major city, governing the flow of knowledge to the masses. Alchemy allows the Library to deliver the content of the greatest works of history instantly—but the personal ownership of books is expressly forbidden.

Jess Brightwell believes in the value of the Library, but the majority of his knowledge comes from illegal books obtained by his family, who are involved in the thriving black market. Jess has been sent to be his family's spy, but his loyalties are tested in the final months of his training to enter the Library's service.

When his friend inadvertently commits heresy by creating a device that could change the world, Jess discovers that those who control the Great Library believe that knowledge is more valuable than any human life—and soon both heretics and books will burn…
---------------------------------------------------------------------
My Review:
I wasn't really sure what to expect with this book, because it is a book about books, and I've not read to many of them. This isn't just about the library of Alexandria though, it's about war, technology and using technology to keep things hidden from the rest of the world.
Jess Brightwells is from a family that has an illegal business that deals with selling original books. Now you wouldn't think this would be such a bad thing, but with the Library of Alexandria having survived it is in charge of all of the books, and it doesn't want anyone to have original copies. Instead they have a typing of cloning device (reminded me of library e-book loans from overdrive), that they want everyone to use instead. But of course the richer people in Jess world want originals and will pay top dollar for it, and there are also people who will do awful things to the books, and burners as well.
But one day Jess dad tells him that he will be taking an exam to try and work for the great library. Once into the program Jess meets the other students and their teacher Wolfe. While of course the students don't like each other at first, after a few tests and the number of student's drop and the remaining students start to get closer a new student is allowed in, making the other students upset. Before they can get to upset, they are given a mission that involves getting books out a war zone without dying and very little help from any other adults besides a few soldiers and Wolfe. This was very nerve racking to read, not only because there sending teenagers into a war zone over books, but also because by this point we're learning that the library might not be as good as we first thought.
Overall I really loved this book, I flew through it and I didn't want to put it down. I really liked the friendships between the characters and how they grew as time went on. I was a little worried when a love interest got thrown into the mix, thankfully it wasn't insta-lovey, I do think it will play a part in book two so that will be interesting to see considering what happened between them in this one. The ending for this book, is now one of my favorites for an ending to book one in a series. It was a nice finish and didn't leave on huge cliffhangers like they like to do. It is set up nicely for book two which made me even more excited for it.
If you haven't read this book yet, then please do because it does not disappoint.
I received an advance reader copy of this book from the publisher via NetGalley in exchange for my honest review.