Top 5 Wednesday is hosted by Ginger Reads Lainey and you can find the Goodreads group

here.
This weeks topic is about
Books with "Hard" Topics (ie mental health, sexual assault, illness, etc). Recently I've read several books that deal with mental health (Depression, & Anxiety). I know I haven't even began to read all of the books that are important or good. So I will be having the three books that I have read, and 2 books that I would like to read that deal with mental health. So without further ado here are my choices for Books with Mental Health.
Books I've Read
"All Imogene Scott knows of her mother is the bedtime story her father told her as a child. It's the story of how her parents met: he, a forensic pathologist, she, a mysterious woman who came to identify a body. A woman who left Imogene and her father when Imogene was a baby, a woman who was always possessed by a powerful loneliness, a woman who many referred to as "troubled waters.""
This books deals with the parent having depression and the child having to take care of both of them at times. You can read my review
here
.
"My name is Caitlin and up until forty-eight hours ago I had never:
Tasted alcohol, kissed a boy, sang in public at the top of my lungs, kidnapped anyone or—WHAT? STOLEN A CONVERTIBLE?
Now I'm in jail and I have no idea what I'm going to tell:
The police, my parents, the mayor, all of those camera crews and everyone on Twitter."
This is a hilarious novel about a girl with anxiety who has to go and help her famous cousin stay out of trouble. Review coming soon.
"There are only three things that can get seventeen-year-old Molly Byrne out of bed these days: her job at FishTopia, the promise of endless episodes of Golden Girls, and some delicious lo mien. You see, for the past two years, Molly's been struggling with something more than your usual teenage angst. Her shrink, Dr. Brooks isn't helping much, and neither is her mom who is convinced that baking the perfect cake will cure Molly of her depression."
I loved how this story dealt not only with Mollys side of the depression, but how it slowly brought in how it was affecting those around her as well. You can read my review
here
.
Books I Want To Read
"When "Perfect" Parker Fadley starts drinking at school and failing her classes, all of St. Peter's High goes on alert. How has the cheerleading captain, girlfriend of the most popular guy in school, consummate teacher's pet, and future valedictorian fallen so far from grace?"
Summers is one of the popular YA authors that deals with hard topics, and I've been wanting to read a book by her for awhile and I hope this year I do.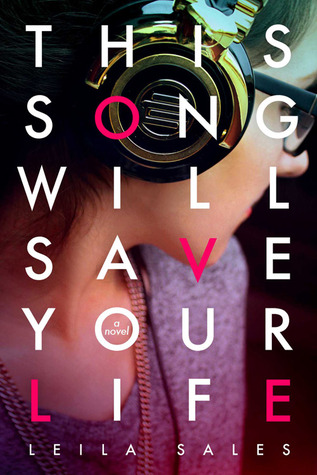 "Making friends has never been Elise Dembowski's strong suit. All throughout her life, she's been the butt of every joke and the outsider in every conversation.
"
I first heard about this book when it came out in 2013 and heard a lot of good things about it. I just didn't have the guts to pick it up at the time due to it being mentioned as realistic fiction frequently. Hopefully this year I will change that though.
Those were my picks for Books With Mental Health. If you have any recommendations then please leave them down below.