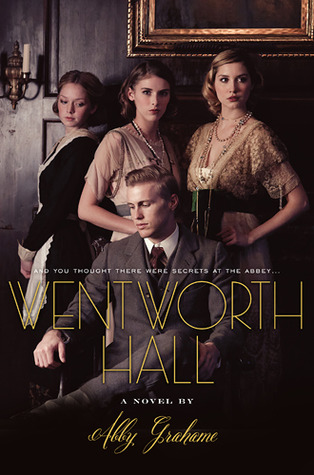 Title:
Wentworth Hall
Author:
Abby Grahame
Publisher:
Simon & Schuster Books for Young Readers
Published Date:
May 1st 2012
Genre:
Historical Fiction, YA, 1920's
Page Count:
276
Format:
Hardcover

My Rating: ★ ★.75
Goodreads Summary:
The prettiest people often have the ugliest secrets…

Eighteen-year-old Maggie Darlington has turned into an entirely different person. The once spirited teen is now passive and reserved. A change Lord and Lady Darlington can't help but be grateful for.

It's 1912, and the Darlingtons of Wentworth Hall have more than just the extensive grounds to maintain. As one of Britain's most elite families, they need to keep up appearances that things are as they have always been… even as their carefully constructed façade rapidly comes undone.

Maggie has a secret. And she's not the only one… the handsome groom Michael, the beautiful new French nanny Therese, the Darlingtons' teenage houseguests Teddy and Jessica, and even Maggie's younger sister Lila are all hiding something. Passion, betrayal, heartache, and whispered declarations of love take place under the Darlingtons' massive roof. And one of these secrets has the power to ruin the Darlingtons forever.

When scandalous satires start appearing in the newspaper with details that closely mirror the lives of the Darlingtons, everyone is looking over their shoulder, worrying their scandal will be next. Because at Wentworth Hall, nothing stays secret for long.
---------------------------------------------------------------------
My Review:
"But you still won't run away with me because being a Darlington is not only about things. It's about family, too. You told me yourself, nothing means more to the Darlington's than keeping the family lineage clean and prestige."
This book had just as many scandals as I was expecting it to. With the Darlington family has two of the same type of scandals going on. It's just one is Lord Darlington's and one is Maggie's.
This story follows Maggie, Lila and Nora (servant). It also has a rather funny newspaper story about the Darlington family.
When Maggie and her mother return home from France after, an unexpected long trip due to Lady Darlington "having a baby". Maggie is ready to return as life to normal, or is she. Instead of being her old happy and adventurous self she is now cold and shows no interest to anyone, nor does she enjoy her favorite old past time horse riding.
Lila is happy her sister is home and that things can go back to being fun again, except Maggie wants nothing to do with her and instead ignores her. Leaving Lila feeling, just as alone as before.
Nora is the girl's maid and is also the houses source of the best gossip. She learns everything which can be good and bad, because as the story goes on we realize how little wealth the Darlington's have left meaning more staff will be cut.
When father's old army friend dies he sends his twin children Teddy and Jessica Fitzhugh to live with them until they turn eighteen and can get their inheritance.
With Teddy seeming to fall madly in love with Maggie, she does not feel the same even though she desperately tries in order to help the family maintain their wealth. While Maggie is trying to court Teddy, Lila ends up falling for him, if she could only just get his attention to not be on Maggie. While both sisters are trying to get Teddy's affection. They can't seem to breakthrough Jessica's ice-cold personality towards them and the English in general. Jessica can't wait to turn eighteen, get her inheritance and move back to South Africa.
While all of this is going on a series of story in the newspaper called "The Worthless Saga" is being written and it seems to be extremely similar to the Darlington's life, meaning that someone in the house is writing this scathing story and it must immediately be stopped. The only problem is, no one well fess up to it and while most seem to think it's a certain Fitzhugh doing it no one can prove it.
With the "Worthless Saga" threatening to spill all of the
Darlington'
s secrets and the family itself seeming to fall apart this story was fast-paced and interesting, but at times was far to
rushed due
it to it being a standalone. If this has been a
doulogy
I think I would have liked it more because we would have been able to connect with the characters and have a little bit more development of some events.
Now does this book bare any similarities to
Downton
Abbey? Well a few it has some of the same scandals and the family has financial trouble (much worse than in
Downton
Abbey). As for the girls will Maggie seemed to be a little like Sybil and Mary at times. As for Lila well I would say she was like Edith for most of the story.