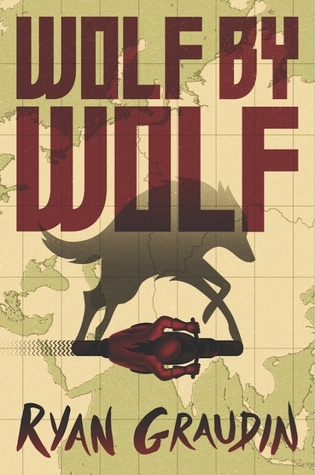 Title:
Wolf by Wolf
Series:
Wolf by Wolf #1
Author:
Ryan Graudin
Publisher:
Little, Brown Books for Young Readers
Published Date:
October 20th 2015
Genre:
Historical Fiction, science fiction, YA
Page Count:
400
Format:
Kindle

My Rating:
★ ★ ★ ★ ★
Goodreads Summary:
The year is 1956, and the Axis powers of the Third Reich and Imperial Japan rule the world. To commemorate their Great Victory over Britain and Russia, Hitler and Emperor Hirohito host the Axis Tour: an annual motorcycle race across their conjoined continents. The victor is awarded an audience with the highly reclusive Adolf Hitler at the Victor's ball.

Yael, who escaped from a death camp, has one goal: Win the race and kill Hitler. A survivor of painful human experimentation, Yael has the power to skinshift and must complete her mission by impersonating last year's only female victor, Adele Wolfe. This deception becomes more difficult when Felix, Adele twin's brother, and Luka, her former love interest, enter the race and watch Yael's every move. But as Yael begins to get closer to the other competitors, can she bring herself to be as ruthless as she needs to be to avoid discovery and complete her mission?
---------------------------------------------------------------------
My Review:
"These were the names she whispered in the dark.
These were the pieces she brought back into place.
These were the wolves she rode to war."
This was my first book from Ryan

Graudin

and I am so glad I started her work with this one. It was way amazing and far better, then I ever thought it would be.
This book not only takes on an alternative history and a whole new part of history with the potential experiments that the Nazis were doing on people. While this was interesting and fascinating it was also rather terrifying to think of.
Yeal
is one of the most complex characters that I have read
thus
far. When we first meet her she is a very young girl just going to the concentration camp with her mother. From there we see her grow up and change drastically due to the suffering she had to go through due to doctor's experiments. The experiments not only change her as a person, but they also make the other prisoners terrified of her. Because of this though she also is able to escape and become part of the resistance. She gets taken in by Aaron-Klaus and
Henryka
who taught everything she knew
outside of
the camps.
This story is told from two perspectives all by
Yael
just as a child and her in the present. For me this made the book far more enjoyable because we slowly got to see how she became who she is today and what made her
want do
this.
If you're wondering how the wolves come into all of this be prepared for a great deal of heartbreak.
I really enjoyed the race parts of the book and found them really interesting especially when it was explained how it certain parts were now a part of
Germania
and what parts were still their own countries. Not only did we see the places along the race roads we also got to see Tokyo and see how it and
Germania'
s political parties acted towards each other.
The race had so many different things going on with it at all times that it made the book fast-paced and I was always wanting to know what would happen next and how she would get out of trouble or evade trouble in the first place. We also have
Yael
trying to live Adele's life and attempt to keep Adele's brother from getting hurt and from stopping
Yael
on her mission to end
Germania.
That ending was amazing and I can't say anything about it sadly. So please go and read this book!
"So that was Valkyrie. Not a woman of war- bearer of life and death- but a military protocol."
| | |
| --- | --- |
| | I received an advance reader copy of this book from the publisher via NetGalley in exchange for my honest review. |