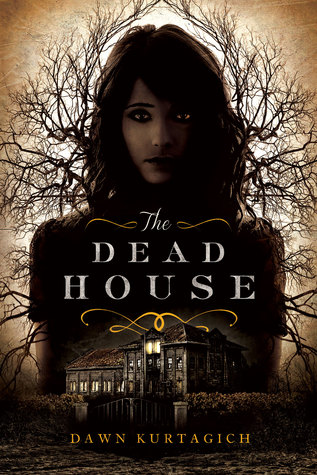 Title:
The Dead House
Author:
Dawn Kurtagich
Publisher:
Little, Brown Books for Young Readers
Published Date:
September 15th 2015
Genre:
YA, Mystery, Thriller, Horror
Page Count:
432
Format:
Kindle
My Rating:
★ ★ ★
Goodreads Summary:
Three students: dead.
Carly Johnson: vanished without a trace.

Two decades have passed since an inferno swept through Elmbridge High, claiming the lives of three teenagers and causing one student, Carly Johnson, to disappear. The main suspect: Kaitlyn, "the girl of nowhere."

Kaitlyn's diary, discovered in the ruins of Elmbridge High, reveals the thoughts of a disturbed mind. Its charred pages tell a sinister version of events that took place that tragic night, and the girl of nowhere is caught in the center of it all. But many claim Kaitlyn doesn't exist, and in a way, she doesn't - because she is the alter ego of Carly Johnson.

Carly gets the day. Kaitlyn has the night. It's during the night that a mystery surrounding the Dead House unravels and a dark, twisted magic ruins the lives of each student that dares touch it.

Debut author Dawn Kurtagich masterfully weaves together a thrilling and terrifying story using psychiatric reports, witness testimonials, video footage, and the discovered diary - and as the mystery grows, the horrifying truth about what happened that night unfolds.
---------------------------------------------------------------------
My Review:
" I don't blame Carly for being the one in the light. I love her more than anything. She's my opposite completely, and she'll say she's the weaker half of our equation, but the truth is she's my rock. She is everything I wish I were. "
The Dead House is a very interesting story, mainly because of how
Kaitlyn
is and who Carly is and trying to figure out which one is real and which one is in her mind. The story is told through Diary entries, written recordings, and notes. With the Diary entries you really get to see who
Kaitlyn
is and what she was feeling at all times. With the few Carly diary entries we had, we saw what her version of life was and how she was always trying to make things better for
Kaitlyn
and trying to protect her. The main chunk of written recordings were from therapy sessions that both
Kaitlyn
and Carly had. There were also some police reports/interviews more towards the middle/end of
the story that were
taken after the incident happened. The notes were between Carly and
Kaitlyn
and was how they would communicate since they couldn't ever remember what had happened when the other one was in control.
Now your probably wondering what I mean when I say the other one was in control. Well it appears that
Kaitlyn/
Carly have split personality disorder or have been possessed by an evil spirit.
Your never
really sure which one it is throughout the story up until the end. Then, it became very obvious which one it was.
As for the side characters throughout the story I did find them interesting, but I never trusted any of them and always thought that most of them were going to end up hurting
Kaitlyn/
Carly or do something to make the other one lose it. I'm not going to say anymore about them or the rest of the story because I don't want to give anything away or make you think that this story wasn't a good one.
For me this book wasn't very scary sadly. It was more of a thriller/ mystery instead of a horror novel like I thought it would be. I still enjoyed it though and was always wanting to know what was going on with the girls.
| | |
| --- | --- |
| | I received an advance reader copy of this book from the publisher via NetGalley in exchange for my honest review. |