Title:
Confessions of a Murder Suspect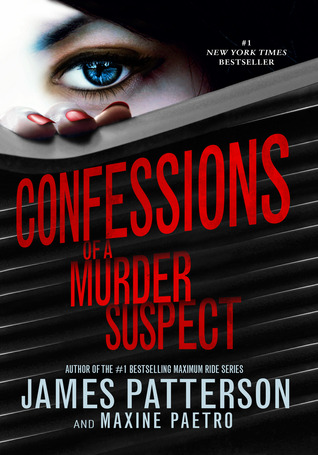 Series:
Confessions #1
Author:
Maxine Paetro and James Patterson
Publisher:
Little, Brown and Company
Published Date:
September 24th 2012
Genre:
YA, Mystery, Thriller, Contemporary
Page Count:
387
Format:
Kindle
My Rating:
★ ★ ★ ★
Goodreads Summary:
On the night Malcolm and Maud Angel are murdered, Tandy Angel knows just three things: She was the last person to see her parents alive. The police have no suspects besides Tandy and her three siblings. She can't trust anyone -— maybe not even herself.
Having grown up under Malcolm and Maud's intense perfectionist demands, no child comes away undamaged. Tandy decides that she will have to clear the family name, but digging deeper into her powerful parents' affairs is a dangerous -- and revealing -- game. Who knows what the Angels are truly capable of?
------------------------------------------------------------------------
My Review:

" Our Parents were gods and monsters at the same time. Maybe we're all like that- gods and monsters."
While I have always heard a lot about James Patterson I had never read any of his work until now. I know he doesn't fully write the books now, I was still wanting to try reading his newer work. While I'm not sure if it is his writing style or Maxine's that I ended up loving so much. While it is rather strange story it still sucks you in and I was immediately hooked.
The Characters:
Tandy: The main protagonist who wasn't very good at art things, but was amazing at hiding her feelings and controlling her emotions. Also, she has a huge amount of repressed memories. (I hope we out more about these in the next book.)
Harry: Is Tandy's twin and is amazing at playing the piano, but is also very emotional which caused a lot of friction between him and his parents.
Hugo: Super strength ten year old who, is headed down the same path as Matthew most likely.
Matthew: The All-American football player who is slightly estranged from the family, due to arguments with Malcolm and Maud.
Samantha: She was Maud's assistant among other things. She also was at times the children's nanny, and was around them more than their parents most of the time. (Was slightly shocked about her secret though.)
Malcolm and Maud: Malcolm is a super scientists with pill supplements who is trying to change the children of the world. (You will understand if you've read the book.) Maud is a powerful investment banker.
Uncle Peter: Malcolms very creepy brother/business partner.
Now to the Plot
Let's be completely honest here the Angel family is weird, and with that weirdness also comes extreme repressed emotions. Malcolm and Maud have taught the children to strive for perfection at all times and when the children weren't perfect they were given things called "chops" where they had to
either do
physical exercise things or show their brains. But when the children did things exceptionally well they were given things called the "
Grande
Gongo"
where they get to choose a reward of whatever they want pretty much and then they get to go and do that.
Now with this strive for perfection there is also Malcolm giving the children a huge amount of pills that appear to be controlling them in a way. The reason while all of this is important is that all of the children and especially Tandy are the main suspects in Malcolm and
Mauds
death.
Throughout the whole story you think that it could genuinely be any of the children and they all had their own motives for doing it. Then, you also have the neighbors who were equally strange, and two of them
had there own
motives for doing it. I also at one time I thought that Samantha, uncle Peter and Matthew's girlfriend were also prime suspects in my opinion.
I'm not going to go to say anymore because I don't want to ruin it for anyone.
The ending was slightly disappointing, I do get why it was that way, but it was not what I was expecting.
I am planning to read the other two in the series during the Casual
Readathon
later this month.