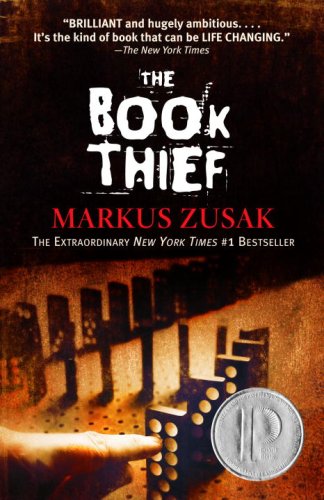 Title:
The Book Thief
Author:
Marcus Zusak
Publisher:
Alfred A. Knopf
Published Date:
September 18th 2007
Genre:
YA, Historical Fiction
Page Count:
550
Format:
Paperback
My Rating:
★ ★ ★ ★ ★
Goodreads Summary:
It is 1939. Nazi Germany. The country is holding its breath. Death has never been busier, and will be busier still.
By her brother's graveside, Liesel's life is changed when she picks up a single object, partially hidden in the snow. It is The Gravedigger's Handbook, left behind there by accident, and it is her first act of book thievery. So begins a love affair with books and words, as Liesel, with the help of her accordian-playing foster father, learns to read. Soon she is stealing books from Nazi book-burnings, the mayor's wife's library, wherever there are books to be found.
But these are dangerous times. When Liesel's foster family hides a Jew in their basement, Liesel's world is both opened up, and closed down.
In superbly crafted writing that burns with intensity, award-winning author Markus Zusak has given us one of the most enduring stories of our time.
---------------------------------------------------------------------------
My Review:

"I wanted to tell the book thief many things, about beauty and brutality. But what could I tell her about those things that she didn't already know? I wanted to explain that I am constantly overestimating and underestimating the human race-that rarely do I ever simply estimate it. I wanted to ask her how the same thing could be so ugly and so glorious, and its words and stories so damning and brilliant."
Disclaimer: I watched the movie first.
Having said that though I'm so glad I did because it gave me a different viewpoint and without it I would have been rather annoyed with how the book constantly spoils itself with Death mentioning things before they happened or going back and forth and visiting other things even though he had already told you what happened. But while you did know certain things were going to happen, they weren't fully described until Death went back to them and told them to you in detail.
Now for the Characters.
Liesel she was an amazing young character. When the story starts we meet her on the train with her brother where they have been given up to foster care by their mother trying to protector them from the Nazi's. Sadly due to spontaneous events her brother doesn't make it and it is just her. From there she gets taken to Hans and Rosa Hubermann who become her new mom and dad. After being there awhile, and slowly learning how to read and write, she starts feeling more comfortable feeling more comfortable in her surrounding you really see her come out of her shell and become "the book thief".
Hans and Rosa Hubermann I didn't really like Rosa for quite awhile at first she just appears to be a cranky woman who is rude, but as you get to know her you see that that is how she shows her love and that she is mean to people to protect herself from getting hurt. As for Hans you instantly love him and are so thankful that Liesel got him for a father because he teaches her so much and has the patience of a saint with her.
Rudy was such a good character he was funny, and serious when he needed to be. He took care of Liesel and Tommy and tried to protect both of them even if it meant that he got hurt as well. Rudy and Liesel had such a good friendship and were always there for each other when they needed to be. Plus they made a pretty good thieving pair to.
Max was an interesting character he was a fighter before he had to go into hiding and that's what he was known for. But after he had to go into hiding and ended up on the Hubermanns door he became a story teller of sorts. He would write several stories to Liesel, and he also entertained her with stories of him and Hitler fighting.
Overall I really loved this story and I am so glad I waited to read it until I was in the right mood.
"Silence was not quite or calm and it was not peace."