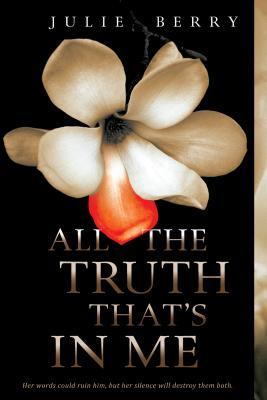 Title:
All the Truth That's in Me
Author:
Julie Berry
Publisher:
Speak
Published Date:
August 19th 2014
Genre:
Historical Fiction, YA, Mystery
Page Count:
304
Format:
Paperback
My Rating:
★ ★ ★ ★ .5
Goodreads Summary:
Four years ago, Judith and her best friend disappeared from their small town of Roswell Station. Two years ago, only Judith returned, permanently mutilated, reviled and ignored by those who were once her friends and family. Unable to speak, Judith lives like a ghost in her own home, silently pouring out her thoughts to the boy who's owned her heart as long as she can remember--even if he doesn't know it--her childhood friend, Lucas. But when Roswell Station is attacked, long-buried secrets come to light, and Judith is forced to choose: continue to live in silence, or recover her voice, even if it means changing her world, and the lives around her, forever.
------------------------------------------------------------------------
My Review:
"Will I help him make something of his life? Who will help me? Why does everyone presume that I, as damaged merchandise, forfeit any claim to happiness?
That I expect nothing, have no ambitions or longings of my own? When was it agreed that my lot would be to gladly serve as a prop and a crutch for others
who are whole?"
I'm not really sure how to review this book to be honest. At first I really struggled to get into it since it was written in second person almost as a note or diary format. But after awhile I really started liking this writing and saw why it worked so well for this story. The setting appears to be colonial puritan America. Which makes it have strong religious beliefs that make the townspeople and her own family act certain ways towards her due to what they believed happened to her.
We follow Judith who was kidnapped as a young child and was returned with her tongue having been cut off. In the time she was gone a tragedy happened to her family leaving her mother cold towards her and her brother was exactly as he had been before she was taken.
With her mother not wanting her to talk at all due to the sounds it made when she did attempt, Judith is pretty much cut off from the rest of the world besides people being able to read her facial expressions and her nodding her head yes or no. Which causes people to just assume what had happened to her.
Causing her to be seen as an outcast that the rest of the townspeople should not be around.
As the story unfolds we get to slowly know what happened to Judith and what helped her get through it. Which was her love for a boy named Lucas. While her love for Lucas did get quite obsessive at times it was also understandable since she was always having to live in her head pretty much, and always having one-sided conversations with herself.
While this book may have been set in colonial times it also brought up a lot of issues that we have going on today still. Which showed me while we may have changed a lot over the years as a society we still have a lot more to change. Purity was a big thing in this book and it also showed how people tend to act once they assume that you've done certain things.
As for the mystery part of the story and why she was kidnapped and who killed her best friend. I was completely wrong. I was assuming it was someone else the whole time and when it was finally revealed I was shocked.
Throughout the whole story I was rooting for Judith to be able to get the confidence to talk, so that she could tell the townspeople what really happened to her, and that she was really smart, and that she knew a lot of things.
Overall I really did enjoy this book and hope to read more of Julie Berry's books in the future.