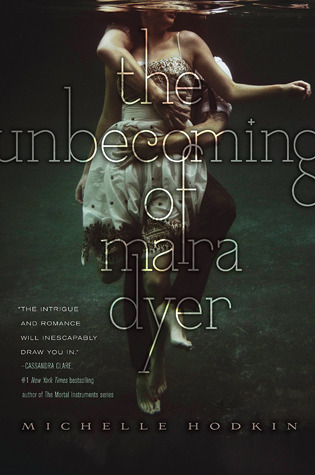 Title:
The Unbecoming of Mara Dyer
Series:
Mara Dyer #1
Author:
Michelle Hodkin
Publisher:
Simon & Schuster Books for Young Readers
Published Date:
September 27th 2011
Genre:
YA, Paranormal, Fantasy, Horror

Page Count:
456

Format:
Kindle

My Rating: ★ ★

Goodreads Summary:
Mara Dyer believes life can't get any stranger than waking up in a hospital with no memory of how she got there.
It can.

She believes there must be more to the accident she can't remember that killed her friends and left her strangely unharmed.
There is.

She doesn't believe that after everything she's been through, she can fall in love.
She's wrong.
--------------------------------------------------------------------------
My Review:
I had a like/hate relationship with this book. I say like because im not in love with this story. The only reason I kept reading it was do to the mystery element.

I hated the insta-love and the main guy protagonist. But even more then that I hated how Mara just let him get away with it after a while of knowing him. She stopped caring that he was a guy that did whatever he wanted and got away with it for the most part and she fell for him. Now im not saying I wont grow to like them as a couple I just think it happened way to fast, and there our bigger things going on that need handling.

Now the part of this book that I did like was the fact that Mara had no clue what was happening to her or how to make it stop or control it. I also really enjoyed the mystery of it all, and that ending oh my.. That is the only thing keeping me reading this series. I have to know if what she saw was another hallucination or real life.