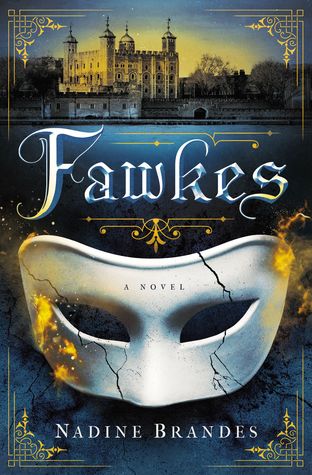 Title:
Fawkes
Author:
Nadine Brandes
Publisher:
Thomas Nelson
Published Date:
July 10th, 2018
Genre:
Historical Fiction, Fantasy
Page Count:
448
Format:
Kindle

My Rating:
★ ★ ★ ★ ★
Goodreads Summary:
Thomas Fawkes is turning to stone, and the only cure to the Stone Plague is to join his father's plot to assassinate the king of England.

Silent wars leave the most carnage. The wars that are never declared, but are carried out in dark alleys with masks and hidden knives. Wars where color power alters the natural rhythm of 17th century London. And when the king calls for peace, no one listens until he finally calls for death.

But what if death finds him first?

Keepers think the Igniters caused the plague. Igniters think the Keepers did it. But all Thomas knows is that the Stone Plague infecting his eye is spreading. And if he doesn't do something soon, he'll be a lifeless statue. So when his Keeper father, Guy Fawkes, invites him to join the Gunpowder Plot—claiming it will put an end to the plague—Thomas is in.

The plan: use 36 barrels of gunpowder to blow up the Igniter King.

The problem: Doing so will destroy the family of the girl Thomas loves. But backing out of the plot will send his father and the other plotters to the gallows. To save one, Thomas will lose the other.

No matter Thomas's choice, one thing is clear: once the decision is made and the color masks have been put on, there's no turning back.
---------------------------------------------------------------------
My Review:
Thank you to NetGalley and Thomas Nelson for a free digital arc in exchange for my honest review.
I read most of this book in a day! This hasn't happened since winter break.
Fawkes is a novel that not only tells the historical story of the plan to blow up parliament but also has a fantasy twist on it that deals with color power, and a plague.
Thomas Fawkes is one of those characters that I wasn't sure if I was going to like or not. I ended up loving him! Seriously he's my new book boyfriend (he's passed Creswell from Stalking Jack the Ripper). Why do I love him so much? Well because not only does he grow and change throughout this book, he's not obsessed with being the hero, all he wants it to be free, and he's good-hearted and doesn't let other people make decisions for him or sway his opinion one way or another. He goes out and finds his own truth, and does what's right even if it harms the people he's grown to care for.
I'm not a romance person, but this relationship that happens in this book. OMG! So natural, so caring, and I WILL GO DOWN WITH THIS SHIP!!
Now time to talk about the history in this book. I'll fully admit that I don't know a lot about the plot to blow up parliament, okay let's be honest, I only knew the song. That's beside the point though. What is the point is that you can tell Brandes did a lot of research for this book to get everything right. From start to finish I was enchanted by this book, and how even though it is a fantasy novel, the history in it was real and yes a few things were changed, but most of it is true.
As for the fantasy color power ability. I loved it! Fantasy can sometimes take me a little while to get into and understand the complexities of it. A quarter of the way into this book I understood what the colors powers were and why they are so important. Brandes did such an amazing job of letting us know what was happening, without it being too much info at once. The beauty and the intricacy of the masks and the color power were so amazing sounding that I cannot wait to see all the fanart that comes from it.
This book has so many intense moments that had me on the edge of my seat, having to know what was going to happen next. I cannot wait to see how everyone else reacts to certain moments because they were just so so good.
I want to read this book again already. I cannot wait for it to come out so I can own a physical copy!