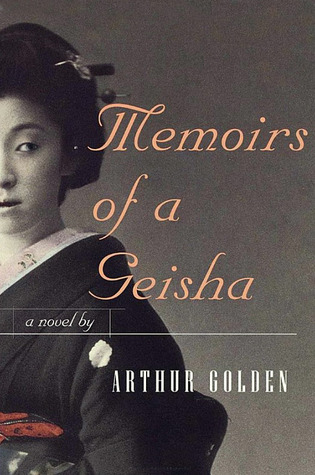 Title:
Memoirs of a Geisha
Author:
Arthur Golden
Publisher:
Penguin Random House Audio Publishing Group
Published Date:
July 5, 2000
Genre:
Historical Fiction, Japan,
Audio Time:
18 hour, 9 min
Format:
Audiobook

My Rating:
★ ★
Goodreads Summary:
Speaking to us with the wisdom of age and in a voice at once haunting and immediate, Nitta Sayuri tells the story of her life as a geisha. Sayuri's story begins in a poor fishing village in 1929, when, as a nine-year-old with unusual blue-gray eyes, she is taken from her home and sold into slavery to a renowned geisha house. It concludes with World War II when the geisha houses are forced to close and Sayuri reinvents herself and finds a rare kind of freedom on her own terms.
---------------------------------------------------------------------
My Review:
"I could no more have stopped myself from feeling that sadness than you could stop yourself from smelling an apple that has been cut open on the table before you."
Sayuri started being 'trained' at the age of nine after she was sold to a tea house that will make her into a Geisha if she follows all the rules, and is respectful of the people in charge. Seems like an easy task, until we meet some of the other young women in the tea house and learn that one thinks she's the best and the other so afraid that she will do anything to not get in trouble again.
"I don't think any of us can speak frankly about pain until we are no longer enduring it."
Once Sayuri is seen as a threat by one of the Geisha things start going very wrong, and lead her to do things that get her into great trouble, which makes it next to impossible for her to become a Geisha. With the help of a kind other Geisha, she is able to start properly training and working towards being her own Geisha and possibly her freedom.
This also lead to men being involved in the story. Sayuri learns the art of being attractive to men, yet still mysterious enough that they want to know more about her. (she is not a prostitute) Which lead to her having to act a certain way in order to please most men and made me grow very frustrated with the situation that she had been put in. I don't blame her either for feeling the way she did about certain things and I wouldn't have been okay for them either.
"Was life nothing more than a storm that constantly washed away what had been there only a moment before, and left behind something barren and unrecognizable?"
I think I ended up over hyping this book for myself sadly. It's one I had wanted to read for so long and had always found it daunting because of how long it is. While the length of this book did grow tedious at times when it came to certain parts of the story that I just truly didn't care for or have any interest in. I will say that I did learn a lot from it.
I learned how long it takes to be a Geisha and the demands that have to be met. I learned that just like with anything else this is very competitive and some people will go to any lengths to make sure they aren't knocked down. While entertaining grew boring after awhile when it came to certain people's antics.
The final straw for me disliking this was when her virginity was literally sold to the person willing to pay the most for it. No not okay.
As more time went on as well I found myself growing more and more frustrated with all the characters including the main one. All for different reason, but still it ended up making me not like the book.