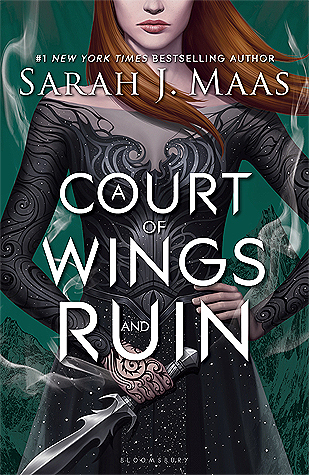 Title:
A Court of Wings and Ruin
Series:
A Court of Thorns and Roses #3
Author:
Sarah J. Maas
Publisher:
Bloomsbury USA Childrens
Published Date:
May 2nd 2017
Genre:
Fantasy, NA, Romance
Page Count:
705
Format:
Hardcover

My Rating:
★ ★ ★ ★
Goodreads Summary:
A nightmare, I'd told Tamlin. I was the nightmare.

Feyre has returned to the Spring Court, determined to gather information on Tamlin's maneuverings and the invading king threatening to bring Prythian to its knees. But to do so she must play a deadly game of deceit—and one slip may spell doom not only for Feyre, but for her world as well. As war bears down upon them all, Feyre must decide who to trust amongst the dazzling and lethal High Lords—and hunt for allies in unexpected places.
---------------------------------------------------------------------
My Review:
MAY CONTAIN SPOILERS
"I believe everything happens for a reason. Whether it is decided by the Mother, or the cauldron, or some sort of tapestry of Fate, I don't know. I don't really care. But I am grateful for it, whatever it is. Grateful that it brought you all into my life."
This one starts off right where the second book ended.
Feyre
is back in a place she never wanted to be again, having to hide and play a very dangerous game in order to convince
Tamlin
of certain things. She sticks with it though and goes on as good as she can. With
Luciens
aid she convinces
Tamlin
of certain things, and learns many important things that will be even more important later on. She is also learning how to still control her powers and what exactly her limits are.
As she pushes her limits and those trying to keep her safe as well. We see a side of
Feyre
that we had just started to see at the end of the second book. She really is fearless about some things and even though she is
Fae
now she still has a lot of her human compassion and morals as well. She is willing to risk everything just to protect others and when her authority is questioned she does what she has to in order to prove that she is capable.
"I will use these powers- my powers- to smash Hybern to bits. I will burn them, and drown them, and freeze them. I will use these powers to heal the injured. To shatter through Hyberns wards. I have done so already, and I will do so again. And if you think that my possession of a kernel of your magic is your biggest problem, then your priorities are severely out of order."
Rhysand is the same head over heels in love with Feyre, will protect everyone at all costs person that we saw in the previous books. It is amazing how different he is from what he was seen as in the first book. It shows how much he is willing to risk of himself to protect everyone else in the world, even those who he has every reason to dislike.
As for Azriel, Cassian and Mor they were the same as when we first met them if not even more love able in this one.
It was so nice to learn even more about them, especially how Mor really opened up to Feyre and told her things that she hadn't told many people before.
Amren is still terrifying and I genuinely feel like Nesta could be a little bit like her, if that don't get her to express her anger in a better way.
"So we'll train, Feyre, until the last possible day. Because we never know if just one extra hour will make the difference."
Thankfully this book had far less sexy times which I was a little surprised about considering how much of the focus was on that in the second book. It was nice though considering they were preparing for war and then at war. No time for sexiness when you have an entire world to save!
"The wall is down. It is gone. It is a new world, and we must decide how we are to end this old one and begin anew. We must decide if we will begin it by allowing those who cannot defend themselves to be slaughtered. If that is the sort of people we are. Not individual courts. We, as a Fae people."
Seeing all of the Courts come together in order to stop
Hybern
was amazing to see. Yes the meetings were highly entertaining because of all the cattiness that happened, but it was also a big learning experience in how they all worked and what had happened in the past. We also get to see more of what
Feyre'
s powers could be capable of.
Elain
and
Nesta
oh
boy.
Nesta
is even more terrifying now and also rather annoying at times again.
Elain
I just want to protect at all costs just like
Nesta
and
Feyre
do. Seeing her broken after what happened was even harder to read then knowing how broken everyone else is somehow.
When it came to the war, I wasn't super nervous about it like other people were. I figured some people were going to die especially those close to the main ones. However, because we were told that companion novels would be happening, I also knew that most likely the main core group of characters would be mostly safe, maybe severely injured, but safe. Having said that though, actually reading the battle scenes were intense, just imaging that much bloodshed and the lasting affects it was all going to have on everyone. It was just
wow.. I
have no real words to explain it.
"It was only in that moment when I knew - I'd understood what the Suriel had meant. Only I could allow the bad to break me. Only I could own it, embrace it."
I am excited to read the companion novels now after this trilogy ended. I don't feel like they are must reads unless you really want to see more of the world or about certain relationships. Personally I just want to find out more about how certain things work in this world and some of the other courts as well.