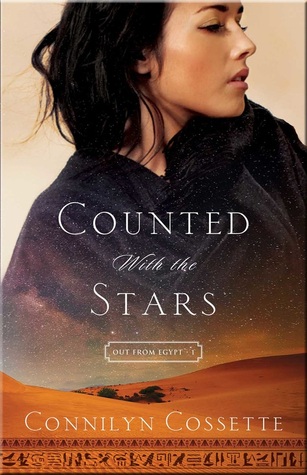 Title:
Counted with the Stars
Series:
Out of Egypt #1
Author:
Connilyn Cossette
Publisher:
Bethany House
Published Date:
April 5th, 2016
Genre:
Religious Fiction, Historical Fiction, New Adult
Page Count:
352
Format:
Paperback

My Rating:
★ ★ ★ ★
Goodreads Summary:
A Story of Love, Desperation, and Hope During a Great Biblical Epoch

Sold into slavery by her father and forsaken by the man she was supposed to marry, young Egyptian Kiya must serve a mistress who takes pleasure in her humiliation. When terrifying plagues strike Egypt, Kiya is in the middle of it all.

To save her older brother and escape the bonds of slavery, Kiya flees with the Hebrews during the Great Exodus. She finds herself utterly dependent on a fearsome God she's only just beginning to learn about, and in love with a man who despises her people. With everything she's ever known swept away, will Kiya turn back toward Egypt or surrender her life and her future to Yahweh?
---------------------------------------------------------------------
My Review:
"Thank you, Shira. I cannot ever repay you for what you did for me. I don't understand why you did it, but I thank the gods that you intervened."
Kiya is a rich Egyptian young woman who is going to be married soon, that is until her father falls on hard times and they lose everything. Then she is sold into slavery so that her mother and brother won't have to be. The good news though is her new master is someone that she has always known and will treat her kindly, well everyone but his wife that is.
Once Kiya is a slave though she meets Shira (a Hebrew) who is honestly the type of friend we all need in our lives. Not only is Shira kind, but she helps Kiya deal with being a slave now and will protect her at all costs. Then once the plagues start happening, she explains to Kiya why they are happening. It was really interesting to see these stories from Kiya's perspective and the Egyptians perspective as well. It's one that we never get to see, so I found it all very interesting.
While it does take quite a while to get to leave Egypt and for Kiya to really interact with the Hebrews once she does the story went by so fast to me. Once they are leaving though seeing it from Kiya and her families perspective instead of just a Hebrew perspective really made the fear come more to life for me. Yes they were all probably a little scared to leave, but the Egyptians mixed in who didn't believe in Yahweh had to be even more scared. Here they were being told to leave Egypt and follow this God that they knew nothing about that was apparently going to keep them safe after having sent all the plagues on them. It had to be inconceivable in a way.
Then we all know what happens once they were out there in the dessert and how bad things got, but this book just started to deal with that. Instead it took a rather unexpected term due to Kiya wanting to protect her brother and mother and in turn has awful consequences happen to her.
The ending though, so good. Made the book so much better to me and all without being over dramatic or lovey dovey.
Honestly I really liked this book, it is now one of my all time favorites in religious fiction. Not only did Cossette tell a good story, she also made it seem really real and like this could have happened to a young woman. The major plot lines followed the ones in the Bible and showed the Hebrews and Moses as they have been portrayed before, just from an Egyptian perspective as well. I can't wait to read the next book in the series and already have it on hold from the Library.