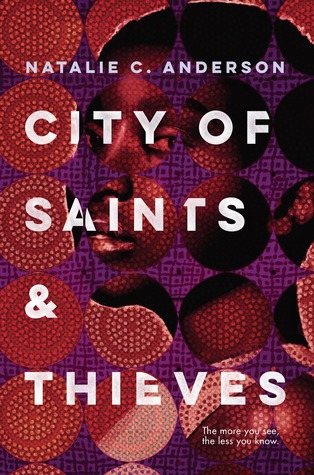 Title:
City of Saints & Thieves
Author:
Natalie C. Anderson
Publisher:
G.P. Putnam's Sons Books for Young
Published Date:
January 24th 2017
Genre:
Mystery, Thriller, YA
Page Count:
432
Format:
Hardcover

My Rating:
★ ★ ★ ★ ★
Goodreads Summary:
In the shadows of Sangui City, there lives a girl who doesn't exist. After fleeing the Congo as refugees, Tina and her mother arrived in Kenya looking for the chance to build a new life and home. Her mother quickly found work as a maid for a prominent family, headed by Roland Greyhill, one of the city's most respected business leaders. But Tina soon learns that the Greyhill fortune was made from a life of corruption and crime. So when her mother is found shot to death in Mr. Greyhill's personal study, she knows exactly who's behind it.

With revenge always on her mind, Tina spends the next four years surviving on the streets alone, working as a master thief for the Goondas, Sangui City's local gang. It's a job for the Goondas that finally brings Tina back to the Greyhill estate, giving her the chance for vengeance she's been waiting for. But as soon as she steps inside the lavish home, she's overtaken by the pain of old wounds and the pull of past friendships, setting into motion a dangerous cascade of events that could, at any moment, cost Tina her life. But finally uncovering the incredible truth about who killed her mother—and why—keeps her holding on in this fast-paced nail-biting thriller.
---------------------------------------------------------------------
My Review:
"People are complicated creatures, my dear. The ways they find of explaining the bad things that happen in the world are not always the right ones. Sometimes they are simply easy ones that give them enough comfort to sleep at night, the ones that let them take the blame off themselves."
Tina is a young woman who has lost everything, but her little sister and because of that she is willing to do anything to make sure her sister has a good life. She sacrifices her own education to do so, and works with the Goondas who give her protection and a job that isn't selling herself.
She also has a revenge she wants to complete. To make her mothers murderer pay for what he did. In order to do that though she is going to need the help of not only the Goondas but also her "friend" boyboy. I say "friend" because Tina doesn't want any friends, because friends mean you care and have something that bad people can use against you and take away from you. She's determined to not get close to anyone again after what happened to her mother.
On her revenge mission though, things go very wrong and she ends up seeing someone she thought she would never see again.
This was a scary situation for anyone to be in, and Tina handled it like a pro in my opinion. Not only did she stick to her guns, but she tried to keep the person at a distance in order to keep them both safe. She never let her mind get changed from what her mission was and because of that good things end up happening.
Not only does she find things out about her mothers past, but she learns so much about who her father is and why her mother had brought them to the greyhill estates after fleeing Congo.
Overall I really loved this book. It was like nothing I've read before and it really opened my eyes. Not only to how life is like for some refugees, but also how young kids survive after losing their parents and no one steps in to take care of them. Tina for me was such a strong and caring character. Even though she tried to keep everyone away from her, she really did rely on them in the end and learned a lot herself about what certain things mean. How just because you've been burned once doesn't mean that you should keep everyone away. The friendship she did make in the end were so nice to read and the fact that things ended up turning out mostly good was also nice, because at one point I thought everything was going very very wrong and she would be left with nothing.
Definitely one of my top books of 2017 so far.
"Maybe you can't be all the things to all people. You might not ever be a proper boarding school girl. Or a perfect thief. Not always the daughter they want or deserve or the sister or the friend. Rules will break you as often as they break them. But I guess thats okay."