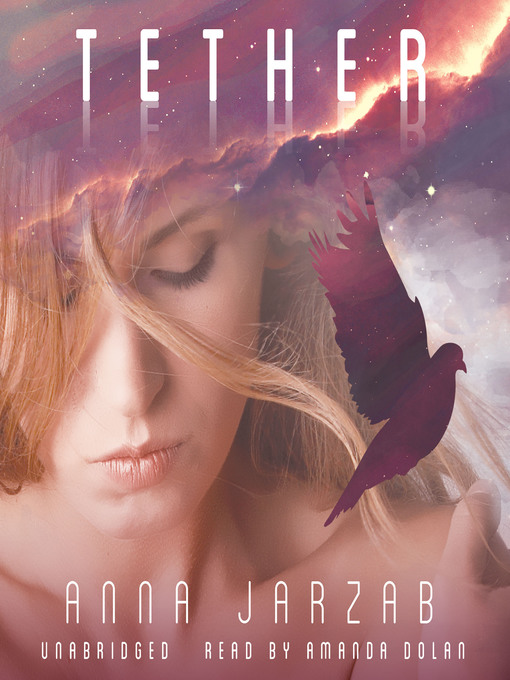 Title:
Tether
Series:
Many World's Trilogy #2
Author:
Anna Jarzab
Publisher:
Blackstone Audio, Inc.
Published Date:
March 10, 2015
Genre:
YA, Fantasy, Science Fiction
Format:
Audiobook
Length:
8 hr 48 min

My Rating:
★ ★ ★ ★
Goodreads Summary:
Back on Earth, Sasha expected everything to go back to normal. But her old life no longer seems to fit, and her heart breaks daily for Thomas, the boy she left behind. Troubled by mysterious, often terrifying visions and the echoes of a self she was just beginning to discover, Sasha makes the difficult decision to journey once more through the tandem.
Thomas is waiting for her on the other side, and so is strange, otherworldly Selene, Sasha's analog from a third universe. The General believes Selene's world intends to invade Aurora, but it's Sasha and their other analog, Juliana, she needs. The three of them have a joint destiny and a new, remarkable power—one that could mean salvation for Selene's dying planet. With Thomas' help, Sasha and Selene search for the still-missing Juliana. But even if they can locate her, is Sasha willing to turn her back on love in pursuit of a fate she's not quite sure she believes in?
---------------------------------------------------------------------
My Review:
"My life held endless prospects, and I could've lived it so many different ways."
I loved being back in this world so much and getting to see all of the analogs and how they were interacting this time around.
While this book is far slower than the first one, but because I didn't read the books back to back, it ended up working for me. It gave me the time I needed to get the world back into my brain and remembering who all of the characters were and why they were important or not.
This one does have the same characters as the first one, with a few new ones added in as well (I think). We start back into the timelines just a few weeks after the first one ended, we also have all of the characters dealing with what they know now and how they plan to fix certain things.
But before Sasha can start helping out again she has to find a way back to Aurora on her own, which proves to be a bit of a problem when it seems that no one is going to help her. That is until she finally convinces someone and learns that he has analogs as well.
Once back Sasha learns a lot and is able to not only help get her analogs out of trouble for the most part, she also gets reunited with Thomas.
Now I'm not saying I love there relationships or anything because I feel like it has moved rather fast considering what is going on around them and how little they both actually know about each other. Plus you have the added problem of multiple analogs which can create mixed feelings as well. They are going to have a lot to work on in the future once things calm down a little. Until that time though it has become very apparent that Sasha is willing to do what she needs to not only save Aurora, but protect her analogs as best as she can for as long as she can.
Overall I really enjoyed this book and being back in this world again. When I go to the ending and was left with multiple cliffhangers, I was sad. Especially when I found out this:
Due to the publisher the third and final book will not be written or released anytime soon sadly. The author says she would like to release it eventually, and post it online if she is unable to get a new book deal.
So until the third book is released, I am going to be left wondering what happens next to all of these characters and if they can save Aurora at all.