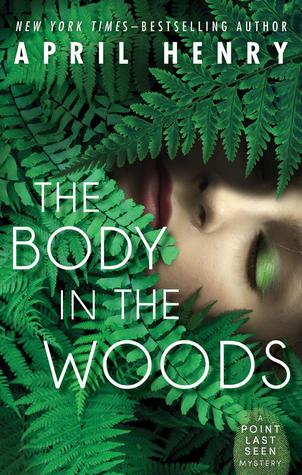 Title:
The Body In The Woods
Series:
(Point Last Seen #1)
Author:
April Henry
Publisher:
Henry Holt and Co. (BYR)
Published Date:
June 17th 2014
Genre:
YA, Mystery, Thriller, Contemporary
Page Count:
263
Format:
Paperback

My Rating:
★ ★ ★ ★
Goodreads Summary:
In this new series told from multiple perspectives, teen members of a search and rescue team discover a dead body in the woods.

Alexis, Nick, and Ruby have very different backgrounds: Alexis has spent her life covering for her mom's mental illness, Nick's bravado hides his fear of not being good enough, and Ruby just wants to pursue her eccentric interests in a world that doesn't understand her. When the three teens join Portland County Sheriff's Search and Rescue, they are teamed up to search for a autistic man lost in the woods. What they find instead is a dead body. In a friendship that will be forged in danger, fear, and courage, the three team up to find the girl's killer—before he can strike one of their own.

This first book in April Henry's Point Last Seen YA mystery series is full of riveting suspense, putting readers in the middle of harrowing rescues and crime scene investigations.
---------------------------------------------------------------------
My Review:
"For Alexis Frost, Nick Walker, and Ruby McClure, it all started with a phone call and two texts. It ended with fear and courage, love and loathing, screaming and blood. Lots of blood."
We have Ruby the super smart girl who loves mysterious and wants to work for the police.
Nick the guy who wants to impress his mom and brother for a change
And Alexis the girl who is trying to hide her real life from everyone at school until she can graduate and move on with her life.
These three end up becoming really good friends through Portland's Search and Rescue team that they all joined for different reason. None of them really thought they would end up finding a body though or what that would end up meaning for each of their personal lives afterward.
As for the killer well, he had similarities to another one of Henry's killers. While it did take awhile for me to figure out who he was. What he was doing was disturbing to me, and I hope no one has actually done this or will do this in the future.
While the plot for this one was predictable at times. It also made it more enjoyable when it started to drag a little. We get to see things from multiple different perspectives but the main ones are the three teenagers and the murderer of course. Getting to learn so much about the search and rescue team was really interesting, I didn't know much about it before and I liked how it also explained how evidence searching was done in this situation.
This book was exactly what I wanted in a short murder mystery from Henry. I can't wait to read the next one in the series and I hope we get to continue on with these three teenagers for quite a while.
"I do know that its possible to live through things you honestly thought would kill you.You can even come out stronger on the other side."