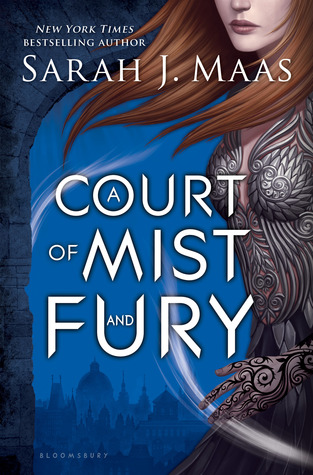 Title:
A Court Of Mist And Fury
Series:
A Court Of Thorns And Roses #2
Author:
Sarah J Maas
Publisher:
Bloomsbury USA Childrens
Published Date:
May 3rd 2016
Genre:
NA, Fantasy,
Page Count:
640
Format:
Kindle

My Rating:
★ ★ ★ ★.5
Goodreads Summary:
Feyre survived Amarantha's clutches to return to the Spring Court—but at a steep cost. Though she now has the powers of the High Fae, her heart remains human, and it can't forget the terrible deeds she performed to save Tamlin's people.

Nor has Feyre forgotten her bargain with Rhysand, High Lord of the feared Night Court. As Feyre navigates its dark web of politics, passion, and dazzling power, a greater evil looms—and she might be key to stopping it. But only if she can harness her harrowing gifts, heal her fractured soul, and decide how she wishes to shape her future—and the future of a world cleaved in two.
---------------------------------------------------------------------
My Review:
"And I wondered if love was too weak a word for what he felt, what he'd done for me. For what I felt for him."
The difference between this book and the first one is huge. Not only do characters drastically change with motives, we also see Feyre trying to figure out how she fits into this world now all while feeling completely alone.
We see Tamlin go from being the perfect person that Feyre almost idolizes to this person that she doesn't really care for and that she feels is shutting her out and not who she wants to be with, yet who she does want to be with and who she still loves. The beginning of this book is tough to read because of all the emotions that Feyre is dealing with and how much darkness she feels is surrounding her all with no one around her trying to help her.
"When you spend so long trapped in darkness, Lucien, you find that the darkness begins to stare back."
While all of that is going on we also see her struggling to deal with her connection to Rhys and how that is slowly changing. Not only does he understand what she's going through, he tries to help her and just wants the best for her. Which while we did see that in the first one, it always seemed to have ulterior motives underneath it, now though it seems to have no motives outside of wanting her to be free from what she is trapped by.
"There are good days and hard days for me—even now. Don't let the hard days win."
We also see Rhys personal life and what kept him going through all he had to deal with in the last one, and how he was still able to get keep some of his people safe all while he was slowly breaking inside.
"There are different kinds of darkness," Rhys said. I kept my eyes shut. "There is the darkness that frightens, the darkness that soothes, the darkness that is restful." I pictured each. "There is the darkness of lovers, and the darkness of assassins. It becomes what the bearer wishes it to be, needs it to be. It is not wholly bad or good."
Overall I really liked this book. So far it's my favorite in this series and I can't wait till the next one. The only real problems I had with it were how Tamlin treated Feyre and how he completely changed once he had what he wanted. I can't wait to see how strong Feyre is in the next one and how she is going to hopefully save both worlds.