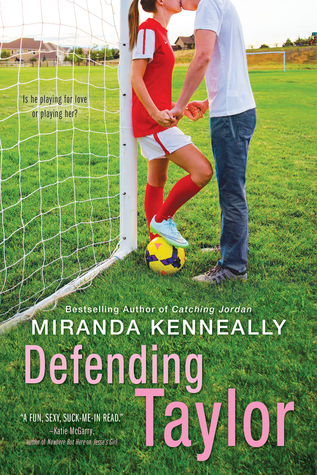 Title:
Defending Taylor
Series:
Hundred Oaks
Author:
Miranda Kenneally
Publisher:
Sourcebooks Fire
Published Date:
July 5th 2016 by
Genre:
YA, Contemporary, Realistic Fiction
Page Count:
304
Format:
Kindle

My Rating:
★ ★ ★
Goodreads Summary:
There are no mistakes in love.

Captain of the soccer team, president of the Debate Club, contender for valedictorian: Taylor's always pushed herself to be perfect. After all, that's what is expected of a senator's daughter. But one impulsive decision-one lie to cover for her boyfriend-and Taylor's kicked out of private school. Everything she's worked so hard for is gone, and now she's starting over at Hundred Oaks High.

Soccer has always been Taylor's escape from the pressures of school and family, but it's hard to fit in and play on a team that used to be her rival. The only person who seems to understand all that she's going through is her older brother's best friend, Ezra. Taylor's had a crush on him for as long as she can remember. But it's hard to trust after having been betrayed. Will Taylor repeat her past mistakes or can she score a fresh start?
---------------------------------------------------------------------
My Review:
"I was born with an insane amount of privilege, and I know I'm lucky, but with that privilege comes responsibility to do important things in my life."
MAY CONTAIN SPOILERS
When Taylor got caught she never thought it would have the consequences that it did. She thought she would be safe because of who her father was, and how much influence he could put on people for certain things to happen. But he didn't help her this time, because he feels like his children should have to do things the right way and not have him saving them all the time. Because of that everything in Taylor's life ended up changing. Not only did she have to switch schools, but the disappointment from her family was more than she ever thought it would be. The worst part is she didn't do anything near as bad as everything thinks she did, but she still did something wrong. So she has to keep lying to protect someone else that she cared for.
"I hate that about lies, how you constantly have to stay on your toes. Telling the truth is so much better. It allows freedom."
As time went on and Taylor started to settle into her new school, and make friends this book really started to show how confused Taylor was about what to do after high school. She had always been expected to go to Yale and then to work at her grandpa's business. But she didn't want to do that, and was very conflicted about that. The good thing though about this was she started to talk to people around her about it and realized that some people that were 40+ still had no idea what they wanted to do with their life and it's okay to not always have a plan.
"It's your life. If you want to live, you need to do what you love."
I really wanted to like this book; sadly it ended up just falling flat for me. I didn't agree with the underage drinking, or the way that it was just tossed around like it was okay to do. I also didn't like how Taylor just kept lying even as things went on and she really wanted to tell the truth, and the consequences were getting worse the longer the lie went on.
The other thing I didn't like was her relationship with her new boyfriend, it all just seemed rush to me, but that could have been because I haven't read any of the other books in this series/companion novels.
Overall I did think this novel was okay, but it wasn't what I was hoping it would be. I do think if you're confused about what to do after high school then this is a good quick read because it talks about other options that are possible and that you don't always have to know what you are going to do next, as long as you keep working hard.
"But should you play a game if you don't know what the prize is? Life is not like The Price Is Right, where they show you three doors and tell you to pick one. The prize might be a new car, but sometimes it's a month's supply of paper towels. What if I pick the wrong thing by going to Yale, majoring in business, getting a job at the family firm, and end up living a miserable life because I did what was expected of me?"
Thank you to Netgalley and the publisher for an e-Arc of this book in exchange for my honest review.