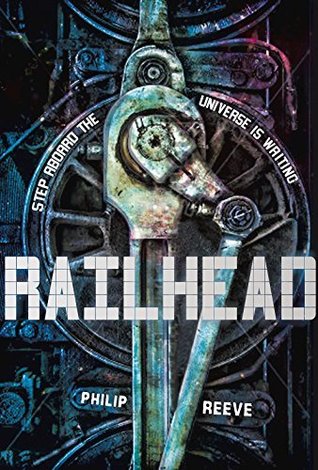 Title:
Railhead
Author:
Philip Reeve
Publisher:
Switch Press
Published Date:
April 1st 2016 by
Genre:
Science Fiction, Dystopia, Fantasy
Page Count:
352
Format:
Kindle

My Rating: ★ ★ ★ ★.5
Goodreads Summary:
The Great Network is an ancient web of routes and gates, where sentient trains can take you anywhere in the galaxy in the blink of an eye. Zen Starling is a nobody. A petty thief from the filthy streets of Thunder City who aimlessly rides the rails of the Network. So when the mysterious stranger Raven offers Zen a chance to escape the squalor of the city and live the rest of his days in luxury, Zen can't believe his luck. All he has to do is steal one small box from the Emperor's train with the help of Nova, an android girl. But the Great Network is a hazardous mess of twists and turns, and that little box just might bring everything in this galaxy — and the next — to the end of the line. The highly anticipated novel from Carnegie-medal-winning author Philip Reeve, Railhead is a fast, immersive, and heart-pounding ride perfect for any sci-fi fan. Step aboard — the universe is waiting.
---------------------------------------------------------------------
My Review:
"So whose side are you on, Zen Starling? " he whispered "Are you with Malik? Railforce? The Guardians? I thought you were a thief, like me." "I'm not on any side" said Zen "Just my own" "Doesn't work that way," said Raven "Comes a point, Zen, when you have to decide."
This was one action packed adventure that kept me entertained throughout the whole story.
This book is set in the far future, we follow Zen who is a thief who loves traveling along the K-Bahn railroad that travels in a very interesting way that you will just have to read to understand it fully. Zen is a thief who a man named Raven has taken an interest in him and has decided that he will be the one that will help him get something that will change the way things are forever. Along the way Zen starts working with Nova who is a Moto that was one of my favorite characters throughout the story. Nova becomes Zen's companion throughout the book and you see them slowly start becoming very attached to each other. Once Zen starts working for Raven he meets Threnbody who is a young lady who is constantly in the rest of her family's shadow, but turns out to be very strong and wise, as the story progresses. We also get to meet Malik who is an officer of sorts for the Guardians and has been looking for Raven for the past few years.
This story is told in several different parts, each one taking you on a different part of Zen's life and throughout his mission for Raven and what happens once that mission is over. Certain parts were a little easier to read, just because you weren't having to try to figure things out at times. In the back there is a glossary that will give you more information on certain terms and when they would have happened.
Overall I did really enjoy this story and I would love to be able to reread this in the future, and see things I'm sure I missed. I did get a little confused with this world and how all of the different things went together at time. I loved how this was somewhat based around trains at times and that it was how travel is done most of the time. I found it very interesting and I loved how the trains were even given personalities and a voice. It was very original in my opinion and I would love to see trains have a larger part in books again.
If you really like fantasy and trains then I would highly recommend this book.

"Just because you have a chance to change everything, doesn't mean you should."
Thank you to Netgalley and SwitchPress for an E-Arc of the book in exchange for my honest review.