Waiting on Wednesday is hosted by Jill @

Breaking the Spine

. It's a weekly meme that allows bloggers to talk about what upcoming book they're most looking forward to read!
This week I wanted to bring back Waiting On Wednesday because I am doing the Debut Author challenge which means that I am now getting really excited for a lot of books that will be coming out throughout this year.
Synopsis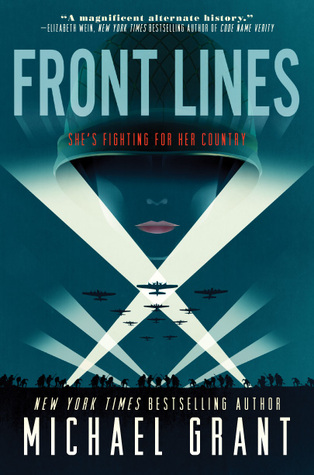 Perfect for fans of The Book Thief and Code Name Verity, New York Times bestselling author Michael Grant unleashes an epic, genre-bending, and transformative new series that reimagines World War II with girl soldiers fighting on the front lines.

World War II, 1942. A court decision makes women subject to the draft and eligible for service. The unproven American army is going up against the greatest fighting force ever assembled, the armed forces of Nazi Germany.

Three girls sign up to fight. Rio Richlin, Frangie Marr, and Rainy Schulterman are average girls, girls with dreams and aspirations, at the start of their lives, at the start of their loves. Each has her own reasons for volunteering: Rio fights to honor her sister; Frangie needs money for her family; Rainy wants to kill Germans. For the first time they leave behind their homes and families—to go to war.

These three daring young women will play their parts in the war to defeat evil and save the human race. As the fate of the world hangs in the balance, they will discover the roles that define them on the front lines. They will fight the greatest war the world has ever known.
Why I'm Waiting
I loved both Code Name Verity and the book thief so I'm hoping that this synopsis is true to its word, because it sounds like something I will truly love. I am hoping to be able to get this from my library is soon as it is available!
Information
Format: Hardcover
Publisher: Katherine Tegen Books
Page Count: 576
Expected Publication: January 26th 2016
Is anyone else excited for this book? What other books are you excited for that come out this month?