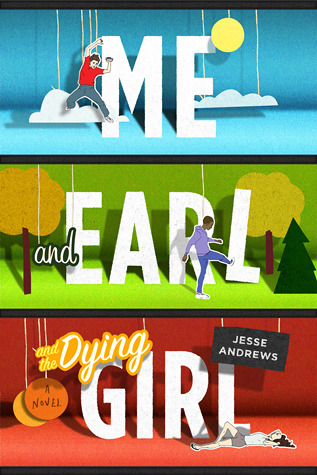 Title:
Me and Earl and the Dying Girl
Author:
Jesse Andrews
Publisher:
Harry N. Abrams
Published Date:
March 1st 2012
Genre:
Contemporary, realistic fiction, YA
Page Count:
295
Format:
Hardcover

My Rating:
★ ★.5
Goodreads Summary:
Greg Gaines is the last master of high school espionage, able to disappear at will into any social environment. He has only one friend, Earl, and together they spend their time making movies, their own incomprehensible versions of Coppola and Herzog cult classics.

Until Greg's mother forces him to rekindle his childhood friendship with Rachel.

Rachel has been diagnosed with leukemia—-cue extreme adolescent awkwardness—-but a parental mandate has been issued and must be obeyed. When Rachel stops treatment, Greg and Earl decide the thing to do is to make a film for her, which turns into the Worst Film Ever Made and becomes a turning point in each of their lives.

And all at once Greg must abandon invisibility and stand in the spotlight.
---------------------------------------------------------------------
My Review:
"There was just something about her dying that I had understood but not really understood, if you know what I mean. I mean, you can know someone is dying on an intellectual level, but emotionally it hasn't really hit you, and then when it does, that's when you feel like shit."
I wish this story had been told from Earl's point of view instead of being from Greg's. While I know this would have changed the whole story because Earl didn't have much to do with Rachel, but when he did he really wanted to help
her and
wasn't just doing it because he had to. Having said that though I do feel like Greg's story was very realistic and was also very believable. Because of that though at times it made him an unlikable character a majority of the time.
He was very honest though and said he did a lot of things wrong and he wasn't a very good friend. Which I will give him credit for, but it didn't make up for the amount of times I just wanted him to wake up and really see what was happening to Rachel and that just trying to make her laugh wasn't going to make her better.
I wish I had liked this book because it was a really good idea. I just never saw what everyone else saw in it.